Published on June 27, 2023
Battle of the Billionaires: Musk and Zuckerberg
The two largest heavyweights in the tech world, Elon Musk and Mark Zuckerberg, plan to make their debut in the ring. Dana White, owner of the UFC, says "the two billionaires are serious about fighting each other in the octagon."1 While the two have recently been on the front page of every magazine, news broadcast, etc., the competition between one another has been long-standing.
Musk vs. Zuckerberg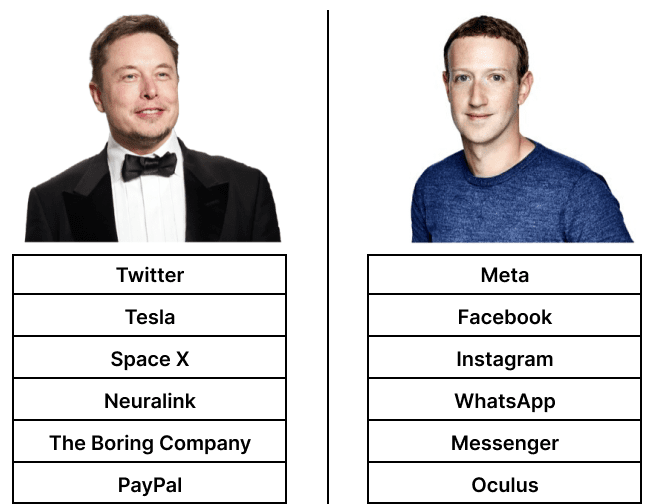 Judging by the graphic above, both Musk and Zuckerberg are widely regarded as today's technology visionaries and leaders. As owners of multi-billion-dollar companies, Musk and Zuckerberg both had and continue to have substantial influence on our daily lives with the technology platforms they've developed, acquired and cultivated, and ultimately success when it comes to building new companies and attracting institutional investors. While the recent spotlight is on the physical fight yet to come, it is symbolic of the underlying battle of the intellects that has been brewing for some time. Zuckerberg, subtly taking aim at Elon's purchase and management of Twitter, recently announced the launch of a new platform codenamed P92, or Threads to join his umbrella of Meta (formally known as Facebook), in order to compete with directly with Twitter.
The head-to-head fight outside of the octagon might be even more interesting than the potential physical fight because of Zuckerberg's announcement of Meta's new service, practically an off-brand Twitter. As Facebook continues to struggle to attract the younger generations, Meta's launch of its new service is something the future of the company is riding on. To many, it seems like Zuckerberg and his team are doing everything they can to keep pace with the times, even if that means poking the bear and competing directly against Twitter.
Musk, CEO of Tesla, SpaceX, and Twitter, and Zuckerberg, CEO of Facebook (now Meta), are leaders of today's technological innovations. These companies are among the largest and most influential in the world, with significant market capitalizations. Institutional investors who hold substantial assets or positions in either of the companies will indeed monitor the development of this potential fight, assessing potential risk or opportunity. While it is unlikely the physical confrontation between the two will directly affect their multi-billion-dollar companies, there is always the possibility of something as polarizing as a UFC fight affecting the companies' performance, stock prices, and investor sentiments.
UFC Involvement & the Boom of Modern Sports Media
Aside from the entertainment aspect of it, the UFC is a business at the end of the day. And Dana White, as a cavalier in combat sports and promotional events, has reshaped modern-day sports media with his impressive monetization of partnerships, sponsorships and PPVs. In August of 2016, the UFC was sold to a group led by Endeavor, a global entertainment, sports, and content company, for a reported price of approximately $4 billion, giving Endeavor majority ownership of the UFC.
Top 10 UFC PPV & Revenue Generated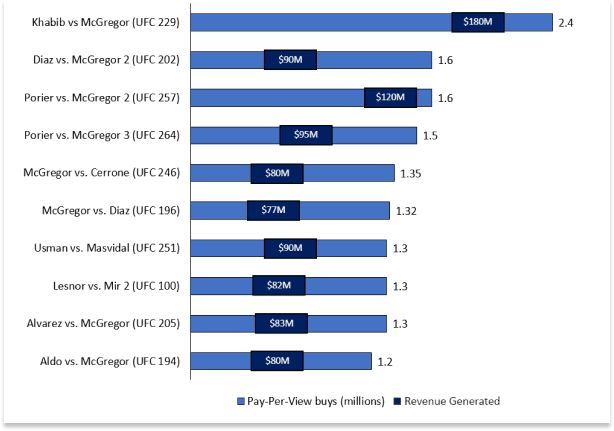 Historically, the top 10 major UFC fights have made a cumulative revenue of over $977 million on PPV alone,2 and hosting two of the world's wealthiest billionaires as their next fight will likely only increase their return. The UFC's success in positioning itself as the leader in combat sports can be attributed to a combination of effective branding, talent acquisition, event production, media partnerships, international expansion, regulatory compliance, and a commitment to innovation.
The success of big fights can attract additional investors and potential business opportunities for the UFC. Shareholders may benefit indirectly from these opportunities as the company expands, potentially leading to increased valuation and potential liquidity events in the future. To that end, big fights that generate significant revenue and media attention can contribute to the overall growth and success of the UFC. As the company's value increases, shareholders may see the value of their ownership stake rise, potentially leading to capital appreciation. According to recent SEC filings, UFC's revenues and net income for FY 2022 were over $1 billion and $387 million, growing nearly 11% and 42% year on year respectively.3
Now, we know what you might be thinking, Musk vs. Zuckerberg isn't a conventional fight by any means. However, this isn't the first time Dana White has explored odd combat ventures. In 2017, White helped co-promote the first of its kind UFC vs Boxer fight between Conor McGregor vs Floyd Mayweather. The fight, toppled UFC PPV and revenue-generating statistics, pulling in a whopping 4.3 million PPV purchases and generating more than $600 million in revenue.4 Today's conversation is no McGregor vs. Mayweather bout, but quite arguably just as intriguing in the world of combat sports. The well known gambling website Draftkings already came out with an opening line of Musk as the underdog at +140 vs Zuckerberg -160 as the favorite,5 and outlets such CNBC are stating that the PPVs could generate upwards of $1 billion.6 Though Musk has a net worth nearly 2.4 times that of Zuckerberg, Zuckerberg still poses threat, especially physically, with background knowledge of Brazilian Jiu-Jitsu. This underdog might just take the win of the year if he can, against all odds, win in the octagon and compete aggressively with his new "knock-off" Twitter service that Meta plans to launch. While many may think Musk is winning the technological and maybe even the physical fight, if UFC history and the marketplace has taught us anything, it's that nothing is ever 100% predictable nor guaranteed.
If one was to compare the two, being Musk and Zuckerberg, some might say there is a clear winner, not just taking in the physicality of it. Musk has demonstrated remarkable innovation and entrepreneurial prowess across multiple industries. Of his most notable companies is Tesla, a leading electric vehicle and clean energy company, which has revolutionized the automotive industry. His ability to identify opportunities, drive innovation, and successfully bring disruptive technologies to market has earned him the title he holds now as one of the most influential, impactful innovators of this century and one of the richest people in the world. Within the next few months, who knows, maybe he could hold another title of "Heavy Weight Tech Champ" in the ring.
Nevertheless, both Musk and Zuckerberg are ground-breakers when it comes to technology, innovation, green energy, etc. While both have had clear success in their professional lives, the true question remains "Who will be deemed the Heavy Weight Tech Champion?" and will this fight happen, or will it just be another failed tech promise?
Sources:
CBS Sports, June 2023. "Dana White says Elon Musk and Mark Zuckerberg are 'dead serious' about fighting in the Octagon"
Forbes, June 2023. "Mark Zuckerberg Opens As Unofficial Betting Favorite Over Elon Musk In Potential MMA Fight"
See the institutional third-party private-market funds that invest in technology.
For registered investment advisors only.