Published on June 2, 2022
Chaos in Commodity Prices: A Temporary Blip, or Panic! At the Disco
With severe spikes in volatility across nearly every asset class, plummeting equity valuations, and rising rates, there is a lot to keep up with in the markets today. With the global economy bearing the brunt of a one-two punch from inflation and geopolitical crises, a savvy advisor would be wise to keep an eye on commodity prices too. As we are all acutely reminded when we fill up our tanks at the pump, the price action of our energy markets, as well as adjacent metals, and agricultural markets can have far-reaching consequences to consumers, producers, and investors. With what is looking more like a potentially protracted period of economic distress, we at Crystal today want to take a look at some of the main sectors within the all-encompassing commodities markets. We seek to analyze where these sectors could go, and how these effects might ripple through other asset classes. Are we looking at a brief blip as the economy continues to work through supply chain bottlenecks, or is it Panic! At the disco?
So, what are we talking about when we say "Commodities"?
Energy
When we think of energy prices, the first thing that often comes to mind for most of us is either what we pay at the pump, or how much the electric bill is each month. In the context of the markets though, this sector is dominated by fossil fuels such as crude oil, natural gas, heating oil, coal, gasoline, and more. As illustrated in the chart below, year-over-year, we have seen substantial price rises across nearly every major energy market. However, with the exception of coal, over the last year natural gas topped the charts in terms of volatility and price appreciation, and its effect on the economy, can serve as an allegory for overall energy markets.
Commodity Prices: Energy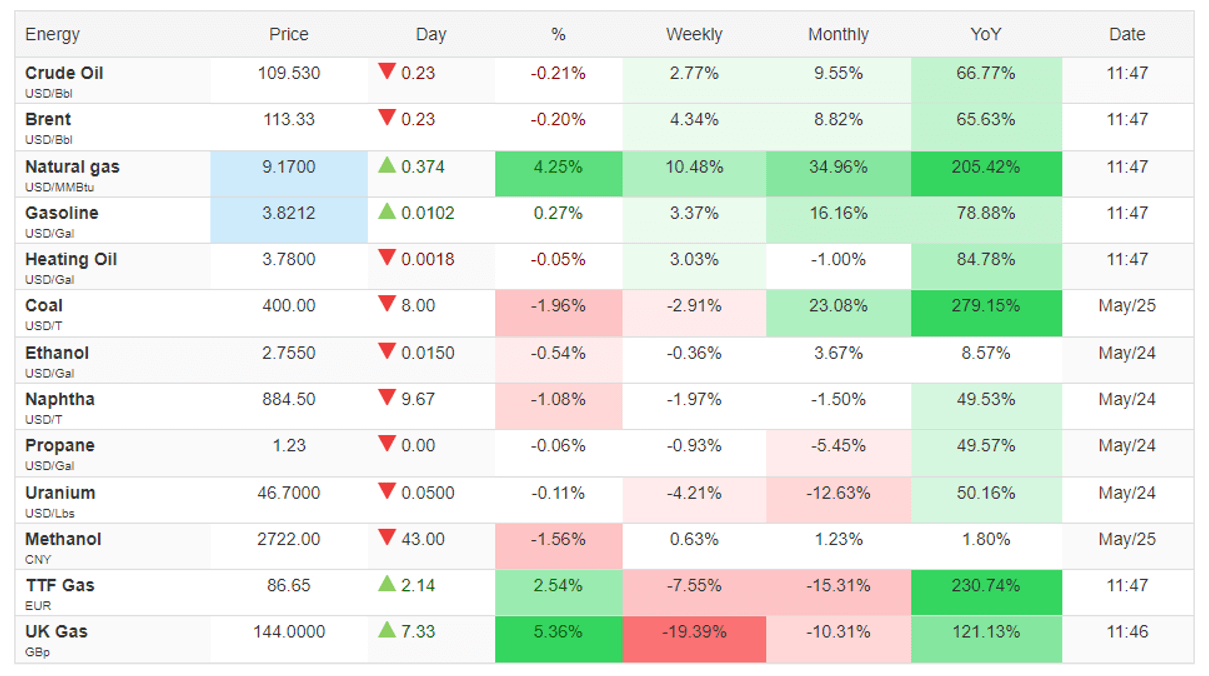 Price Movement of Crude Oil, Natural Gas and Coal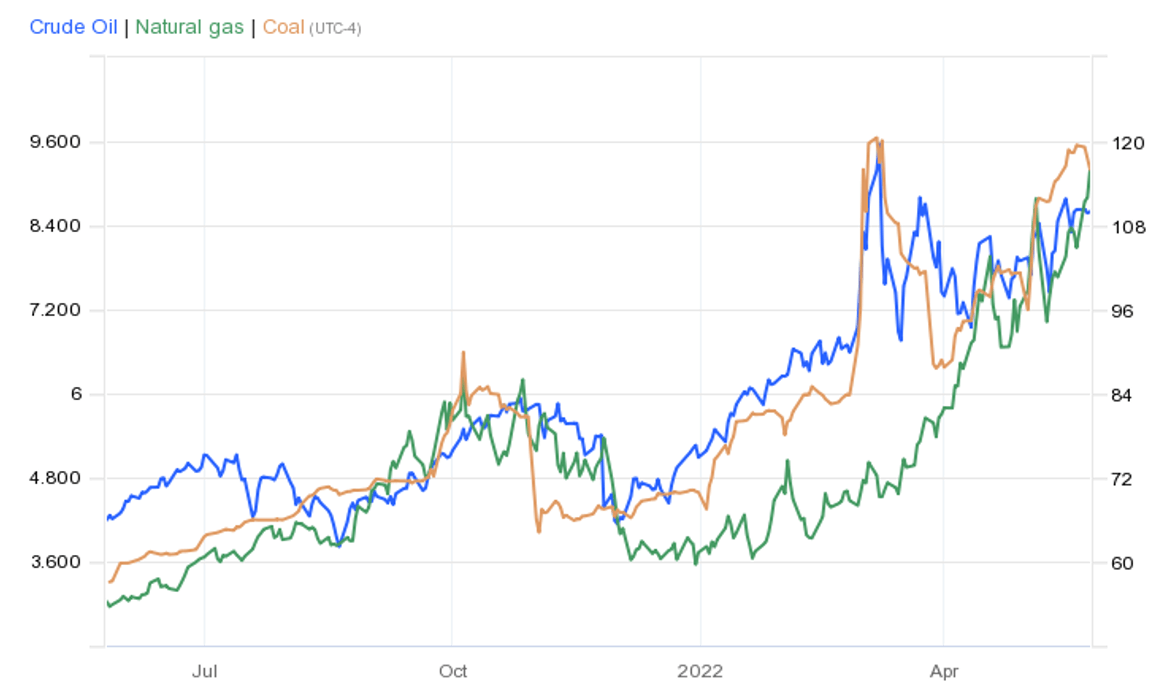 Source: Natural gas - 2022 Data - 1990-2021 Historical - 2023 Forecast - Price - Quote - Chart (tradingeconomics.com)
According to the US Energy Information Administration, gas makes up approximately a quarter of total American energy consumption, and while the United States is the largest producer of natural gas in the world, its longtime sparring partner, Russia, is the second largest. Last week saw prices top $9 per million BTU's (mmBTU) for the first time since the commodity price supercycle of 2008. Unsurprisingly, the economic shock of the Ukraine war and resulting sanctions on Russia have severely dislocated the market. While production of gas is up slightly year over year in the United States and remains far below the price of gas traded in Europe, the EU's goal of significantly reducing its reliance on Russian gas (which we covered on our recent piece on the War in Ukraine) has driven an export boom from the United States to replace the lost Russian imports. Concerns of a supply crunch are mounting in the markets, especially as stockpiles have remained below average as exports eat into stored capacity. Moreover, markets are anticipating hotter than usual weather this summer, some analysts are anticipating even further price increases.
This could spell good news for Exploration & Production players in the Oil & Gas value chain, who have largely driven the fracking boom of the 21st century, as well as ancillary players involved in the pipeline and Liquefied Natural Gas (LNG) export facilities portion of the value chain. Unfortunately, however, the collateral damage of this volatility will likely be energy intensive industries like utilities, manufacturing, transportation, petrochemical-based fertilizers and agriculture, and more. Some analysts are predicting gas prices in America to reach upwards of $10, as a direct result of the infrastructure needed to replace Russian gas requiring years of investment, the competition for LNG and other non-Russian sources, some analysts are predicting American prices above $10/mmBTU this year. However, as the current administration seeks to rapidly expand production and exports from the United States, these investments could pay dividends for US and European consumers of gas, and further ease one of the largest contributors to the supply driven energy inflation we have seen since the pandemic. Thus, as with much else in the global economy, the potential for geopolitical conflicts to intensify or deescalate will drive much of the price movement for natural gas, and energy overall.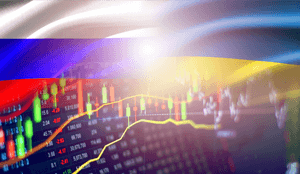 The Ukraine War through the Lens of an Investor
Conclusion
With so many crises facing the world today, and the continued integration of different markets, it could be helpful to keep a broad focus across asset classes. While most advisors are not participating directly in the commodities market themselves, they likely have exposure to underlying commodity prices in the equity or bond markets. With the global economy threatened by war in Europe, inflation, rising rates across the globe, and tensions in Asia, to name only a few risks and issues, a number of these markets are facing a binary situation that could lead to prices plummeting or continued and unprecedented appreciation, with all the consequences to other markets from the price action of these raw materials. While there are numerous risks and complexities for any investment strategy deployed in the public commodities markets, see which experienced global macro, multi-strategy, and private equity managers may be equipped to navigate the myriad effects of the commodities' price action occurring across multiple sub-asset classes.
Sources:
See which third-party funds on our platform provide exposure to the commodities' price action occurring across multiple sub-asset classes.
For financial advisors only.