Published on March 1, 2022
The Creator Economy and Private Investments in the Space
The creator economy has become a significant part of everyday life. Many of us are consumers of these creators and "influencers." Whether it be through a podcast we enjoy, a newsletter we subscribe to, YouTube videos we watch, or celebrities we follow on social media, this marketplace has infiltrated our lives in some way or another. And the growth of the creator economy is not showing signs of slowing down anytime soon. The online content from influencers has reportedly led to billions of dollars in revenue and even prompted hit shows about those who consider themselves the creators and influencers; shows like The Circle, a social media competition, and Hype House, a reality series about influencers living under one roof. Both shows reached the Top 10 lists on Netflix. The opportunities for creators, influencers, audiences, and, of course, investors are in abundance as we experience the proliferation of this industry.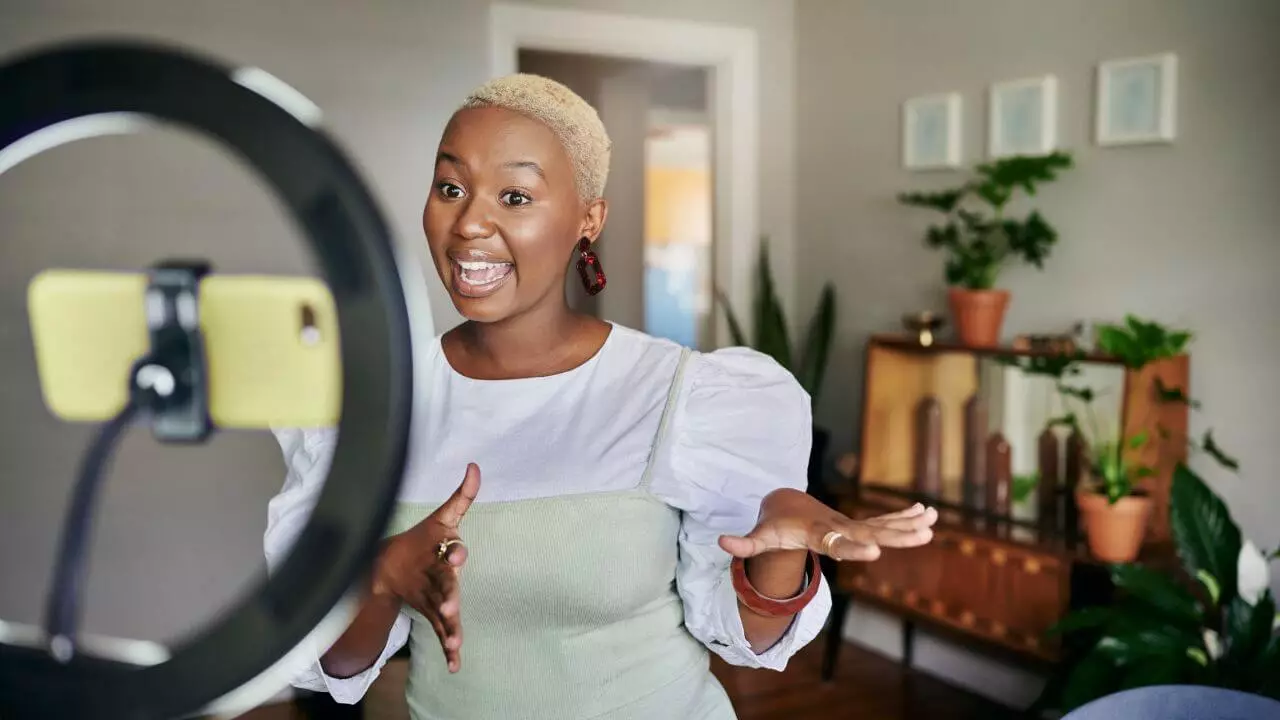 Source: CNN.com
What is the Creator Economy?
The creator economy comprises individuals in the business of content creation, and companies focused on monetizing those individuals' activities and arts.
These days, we consume endless streams of news, drama, trends, stories, games, and more through platforms in which we empower creators and "influencers." And the opportunities to get involved in the companies and platforms working to continue this growth continue to show. Many institutional investors have already taken notice, as some of the most popular websites and apps utilized today, such as Twitch, YouTube, Instagram, and TikTok, focus almost entirely on these creators. This expansion in the market share of consumers' attention has been steady and extreme, and the creator economy is gearing up for more over the next few years.
With the sustained shift in workplace policies and work from home flexibility due to the COVID-19 pandemic, there is an influx of new creators to the talent pool and fans seeking new content. Content creation encompasses numerous verticals, including, but not limited to, influencer marketing, podcasting, blogging, music, video making, live-streaming, independent writing/journalism, video game development, and visual arts. This definition leads to a massive 50 million people who consider themselves creators, according to a report by Signal Fire.
With 50 million people contributing to these segments of the creator economy, it is easy to see its growth over the past few years, as well as envision where it is headed. Big tech has taken note of the value creators bring to their various platforms and has put capital behind these content creators to capture the audiences, and therefore, the revenues of this creative class.
Growth in Creative Areas
According to Forbes, the total size of the global creator economy is estimated to be a little over $100 billion dollars, with YouTube alone making over $28 billion of revenue from advertisements and subscriptions at the end of 2021. To further illustrate the growth that creators within this industry are seeing, 2021 saw a 40% year-over-year growth in creator channels that made at least $10,000 in revenue, according to the most recent information from YouTube's parent company, Alphabet.
Podcasting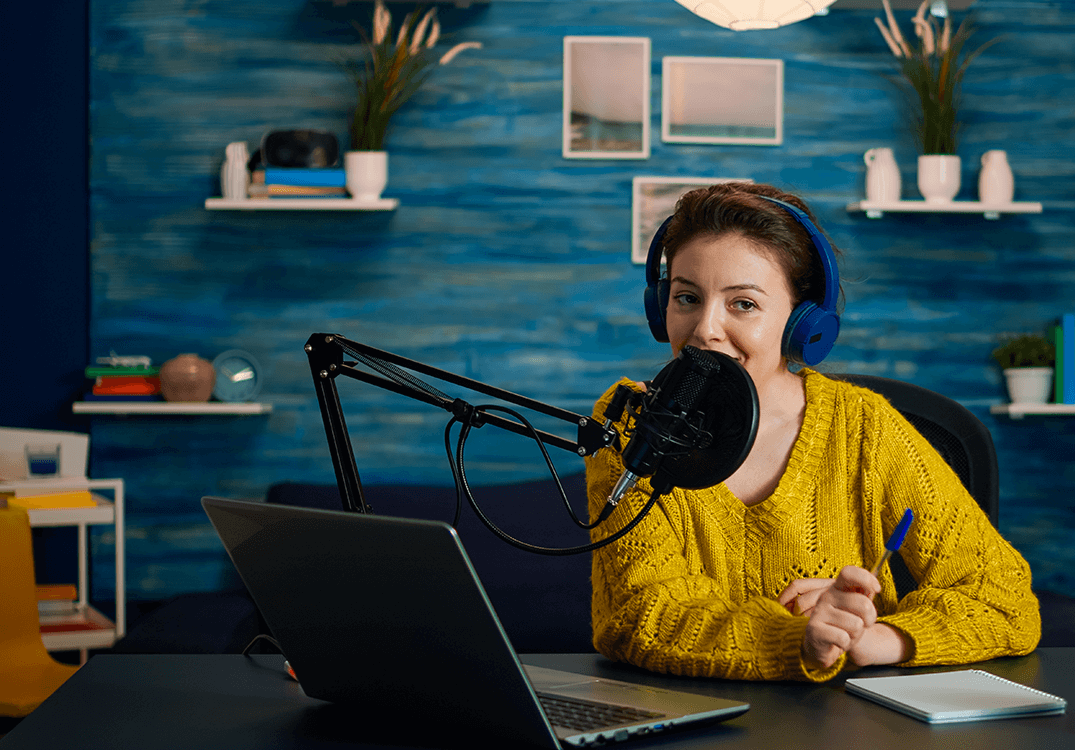 And what about other verticals in the creator economy? Let's take podcasting as an example. The growth of the podcasting industry has been exceptional in recent years. As shown in the chart below, a whopping 57% of US consumers said they have listened to audio podcasts at some point in or before 2021. Grand View Research, a market research and consulting firm, estimates the podcasting market's growth rate at over 30% per year through 2028. This would result in podcasting revenue alone reaching an estimated $94.9 billion by that year – nearly the size of the entire creator economy today!
Percentage of consumers who have ever listened to audio podcasts in the United States from 2006 to 2021 according to Statista.com
Source: Statista, March 2021. "Percentage of consumers who have ever listened to audio podcasts in the United States from 2006 to 2021."
Influencer Marketing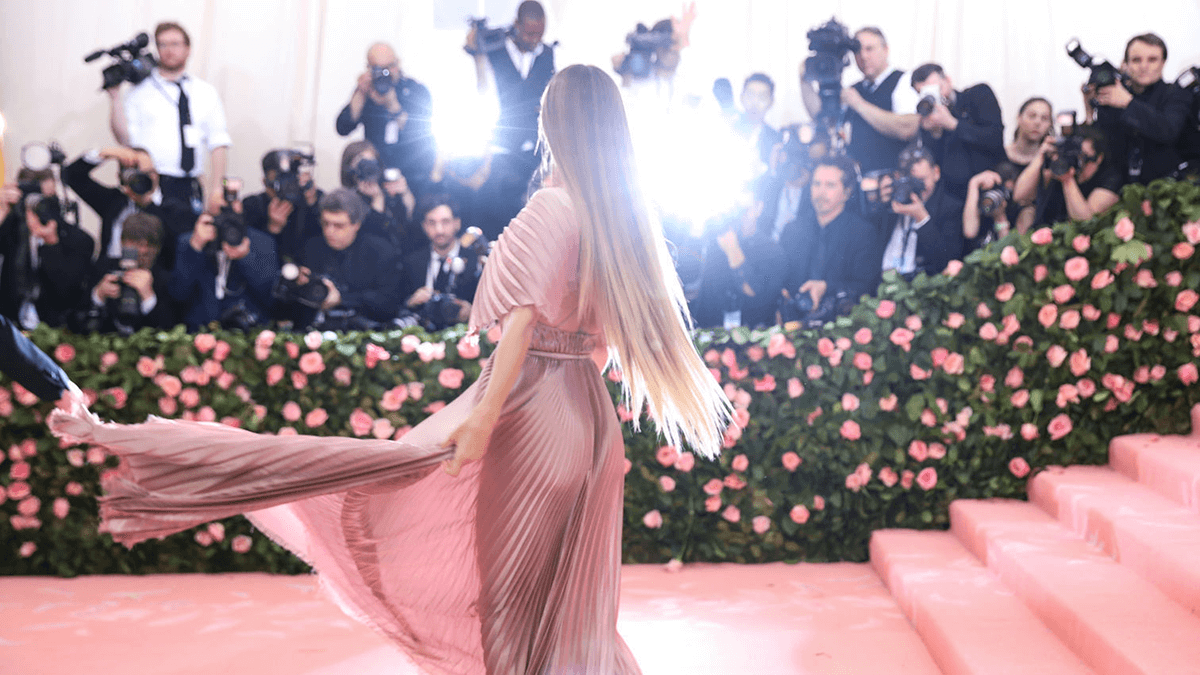 Source: metmuseum.org
Influencer marketing is another major part of the creator economy in terms of both size and expected growth over the next few years. "The term 'influencer marketing' has swiftly transitioned from a mere buzzword to being incorporated into mainstream branding strategies," according to a report by Grand View Research. This combination of celebrity endorsement and content-driven marketing campaigns has resulted in a market size of over $10 billion. It is also estimated to grow at a rate of over 30% per year through 2028. This would lead to an estimated revenue of over $84 billion for this segment of the creator economy in that same year.
Creator Companies
The creator economy is powered by companies surrounding the creators and influencers and includes companies that focus on content creation, monetization tools, and administrative tools. Within content creation alone, there are various verticals of opportunity; there are streaming platforms like Twitch and Spotify and hosting platforms such as Instagram, YouTube, and TikTok. Even some popular NFT marketplaces count as a platform in which creators may seek to host and monetize their digital artworks, making it an integral piece of the creator economy. Monetization tools include companies offering subscription services, such as Patreon and Substack, as well as those focused on fan interactions, such as Cameo or Buy Me a Coffee. These new services for creators are fueling new marketplaces, revenues, and potential.
As big tech has begun to realize the value of the creators driving engagement on their platforms, newer entrants are emerging to try and supplant these media giants. According to CBInsights, there has been a verifiable shift towards creators amassing influence and monetization on their own terms, and the largest creators are influential enough to draw users to new platforms. This shift has fueled a surge in new companies, like those previously mentioned, seeking to provide the talent with what they want, such as tools to provide better interaction with fans and larger shares of revenues, and the legacy platforms are having to change their gameplans to try and retain the talent. RockWater, a market research and advisory firm focusing on consumer brands, estimates over 500 companies within the creator economy as of October 2021.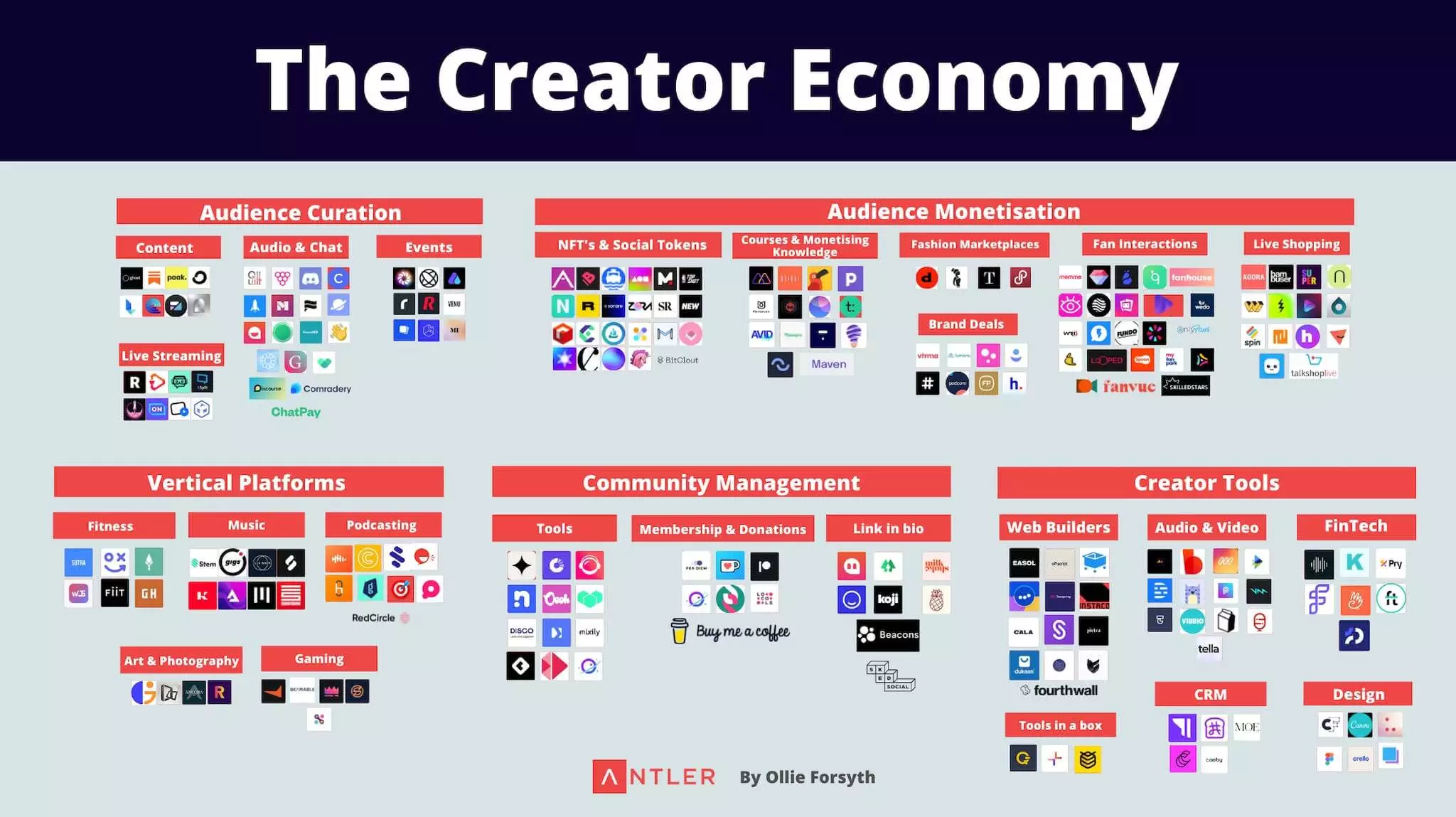 For illustration purposes only.
Source: Antler
Influencing Fundraising
Amidst the problems that come with growth, fundraising has remained robust in the creator economy. With the massive influx of new entrants, private funding and deal flow have also surged in recent years. CBInsights reported that funding for creator-focused companies had reached $1.3 billion in the first half of 2021, roughly 3x the size of investment realized in 2020. This is about a 188% increase in half of the time. A more recent estimate for fundraising in 2021 by The Information places the dollar amount at about $3.7 billion.
Disclosed deals & equity funding through June 4, 2021, according to CBInsights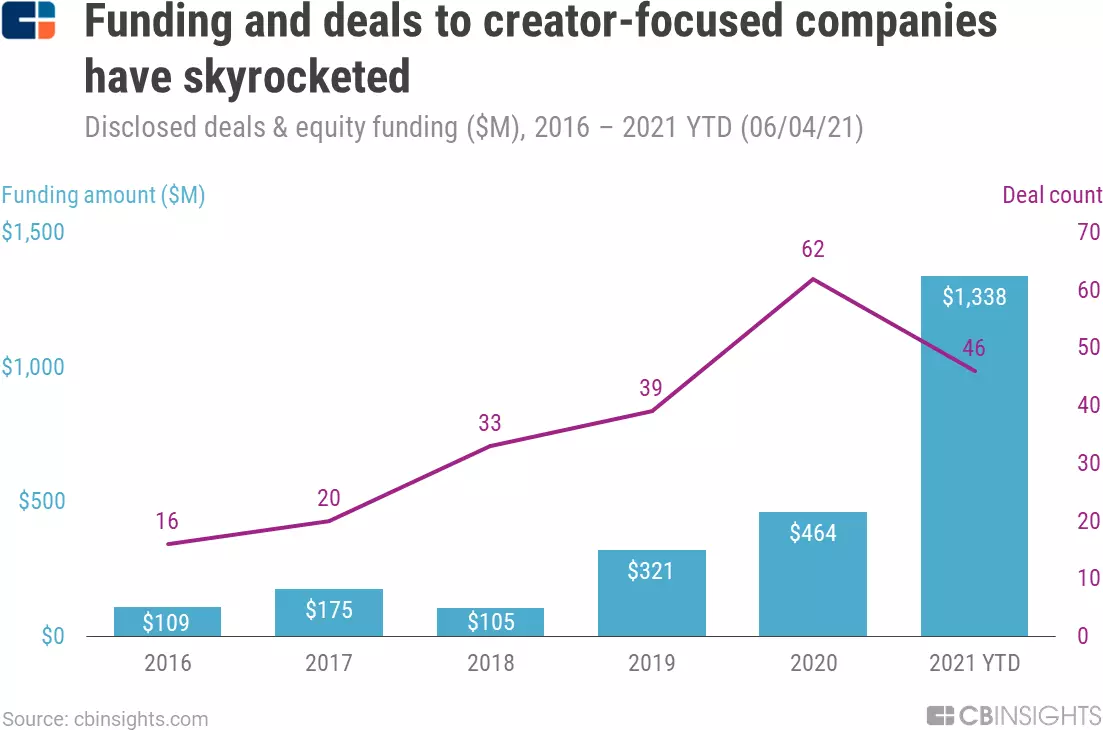 Institutional investors taking advantage of the creator economy include venture capitalists and founders seeing the potential before them. Per The Information, "founders are using…cash to expand into areas they view as poorly covered by large tech companies such as Facebook and TikTok." Beyond the VCs and founders, some of the largest asset managers and private equity firms in the world have expanded into the space, leading rounds in well-established companies, such as MasterClass (a platform for online courses taught by celebrities) and Automaticc (the parent company of WordPress and Tumblr), that are focused on covering these areas that creators and consumers find so vital.
Creating Problems
Of course, with a massive expansion of the industry and those seeking to become creators or influencers - comes an increase of problems for people, companies, and investors. For companies and investors in those companies, there is a risk of a crowded marketplace amid rising competition from startups, new entrants, and big tech companies. Many see tactics by big tech as anti-competitive as the firms seek to retain creators and influencers on their platforms. With the excitement around Clubhouse, Twitter launched a direct competitor called Spaces. With many influencers and creators seeking to monetize the engagement of their fans on independent subscription platforms like Patreon, Instagram has launched a subscription-based service of their own.
Another risk that companies and investors must weigh revolves around freedom of speech issues. Content creators are independent, and their opinions remain incredibly diverse. Many platforms, large and small, have run into trouble in recent years as they walk the fine line of content moderation. Most recently, streaming giant Spotify has found itself in the crossfire over Joe Rogan's podcast. Many, including musicians such as Neil Young, have lambasted the company for providing a platform for what they believe is misinformation, while CEO Daniel Ek has argued that they are committed to "supporting creator expression" and don't want to become a "content censor." Removal of top talents, such as Joe Rogan, from a creative platform, would be harmful to the company's earnings given the audience these talents attract.
Institutional investors have ramped up their investments within the creator economy as they seek to capitalize on the expanding market of independent creators and influencers. If you are a consumer of these different mediums, whether by reading a newsletter about your favorite topic, listening to a weekly podcast, or even watching funny videos on Instagram or YouTube, you likely understand the intrigue in the amount of attention they can command. This is evident by the number of investors who are seeking exposure in private companies looking to revolutionize the creator economy. And some likely want to partner with experienced private investment managers: those who have seen the transformation of consumer behavior with the advances of social media and the internet, and now see a new revolution taking hold. Content is king, but the companies empowering content creators will be the architects of the new kingdoms.
Sources:
TIME, February 2022. "Spotify Has a Much Bigger Problem Than Joe Rogan."
Wall Street Journal, January 2022. "Instagram Creators Can Charge for Subscriptions Under New Test Service."
Alphabet, Q4 2021. Form 10-K.
The Information, October 2021. "How Creator Economy Investments Could Hit $5 Billion This Year."
RockWater, October 2021. "Why the 'Creator Economy' is Now Worth $104 Billion (and Counting)."
Distractify, September 2021. "Influencers Took Over the 2021 Met Gala Red Carpet (in a Good Way)."
Grand View Research, August 2021. "Podcasting Market Size."
Forbes, August 2021. " The Continuous Growth And Future Of The Creator Economy."
CBInsights, June 2021. "The Creator Economy Explained: How Companies Are Transforming The Self-Monetization Boom."
Antler, June 2021. "The ultimate guide to the creator economy."
CNBC, May 2021. "Twitter launches Spaces live-audio rooms to all users with more than 600 followers."
Grand View Research, May 2021. "Influencer Marketing Platform Size."
The Hill, April 2021. "Instagram sparks new concerns over 'kidfluencer' culture."
Statista, March 2021. "Percentage of consumers who have ever listened to audio podcasts in the United States from 2006 to 2021."
SignalFire. "SignalFire's Creator Economy Market Map."
Learn which institutional private equity funds on our platform are seeking investment opportunities in the creator economy and how your clients can participate.
For financial advisors only.