Published on May 12, 2022
EV Battery: A Cause for Geopolitical Concern?
Headline Announcement – "The Biden administration on Monday (5/02/22) announced it will begin a $3.1 billion plan to boost domestic manufacturing of batteries, in a broader effort to shift the country away from gas-powered cars to electric vehicles."
How Crystal Interprets this Headline – After years of underinvestment, the United States has finally come to realize that its laissez-faire approach to building an adequate Electric vehicle industry might have grave consequences when you become too reliant on foreigners.
The past decade can be characterized by the vast commercialization of battery technologies, the deepening complexity associated with EV supply chains, the crowning of national champions, and lastly the development of emerging EV ecosystems around the globe. While the US government has been a perennial laggard over the past decade when it comes to EV-related investment relative to its international peers, the global EV market has made tremendous strides. Involvement from private/public enterprises, along with accommodative policy support from select regimes has been integral to the development of key EV markets to date. And while we're beginning to see the introduction of a more EV-friendly environment in the United States, numbers suggest the global EV rat race has commenced and we've seemed to only scratch the surface of what could be a multi-decade transformation.
Context of the Global EV landscape
The development of the Global EV landscape is one of the more fascinating modernization efforts taking form. All along the supply chain, from the mining of raw materials to the development of battery manufacturing hubs coupled with increasing investment from major auto Original Equipment Manufacturers (OEM), some experts believe the EV industry is finally starting to reach an inflection point of genuine progress.
Key Contributions
Global discourse on the timeline phase away from Internal Combustion Engines (ICE) has begun. In the United States and EU, new regulator targets are aiming for an EV share of at least 50%, and other nations are following suit (In their own respective ways).1
Many major OEM platforms have stated their ambitions to stop investing in new ICE platforms, a cohort of which have already designated a specific end date to ICE vehicles.
Lastly from the beginning of 2020 to the latter part of 2021, the EV industry attracted roughly $100 billion of capital injections alone, almost 1/4th of the $400 billion in total investments received over the last decade.2
Electric Vehicle Market: Sales & Growth Consolidated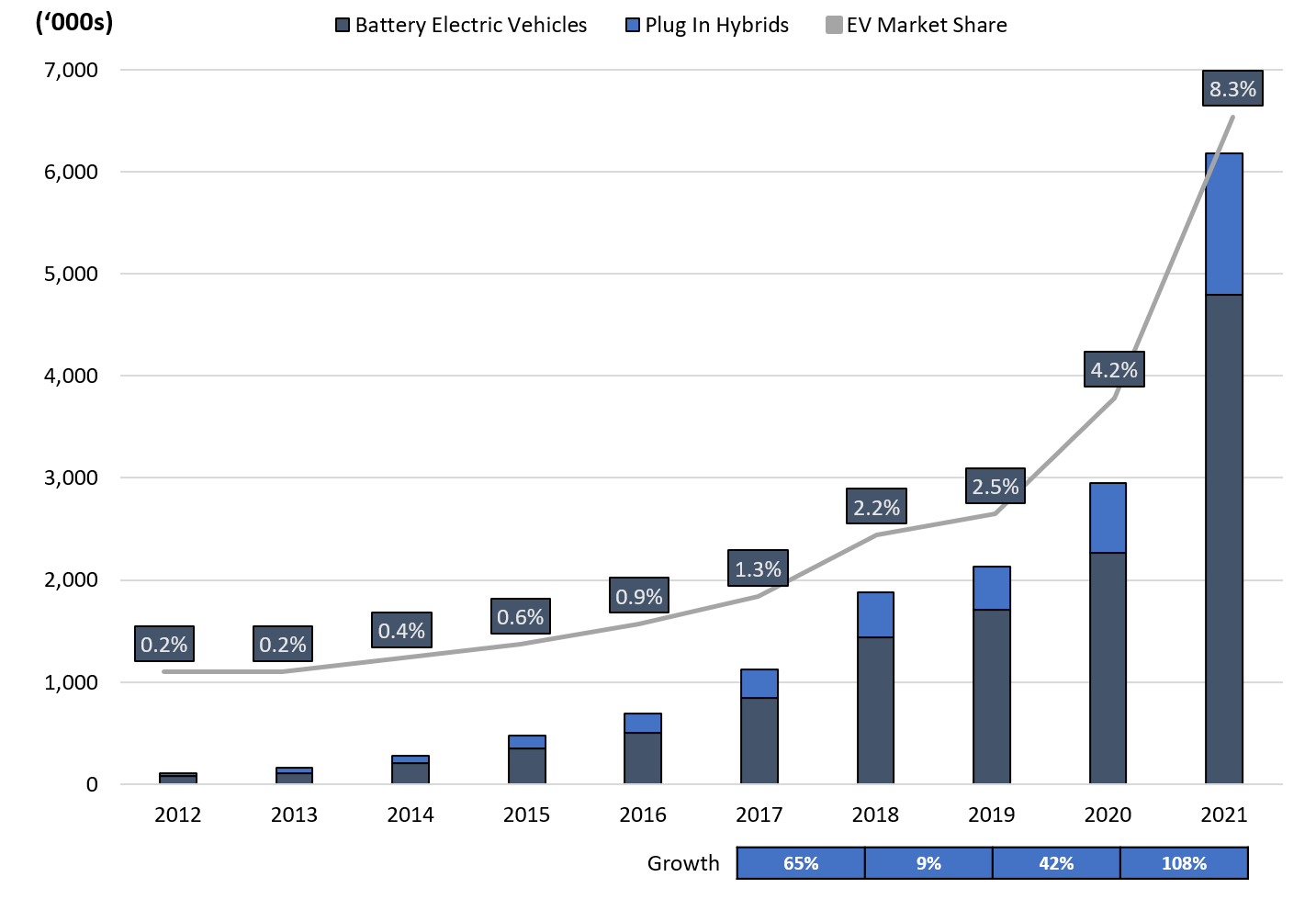 Electric Vehicle Market: Sales & Growth by Region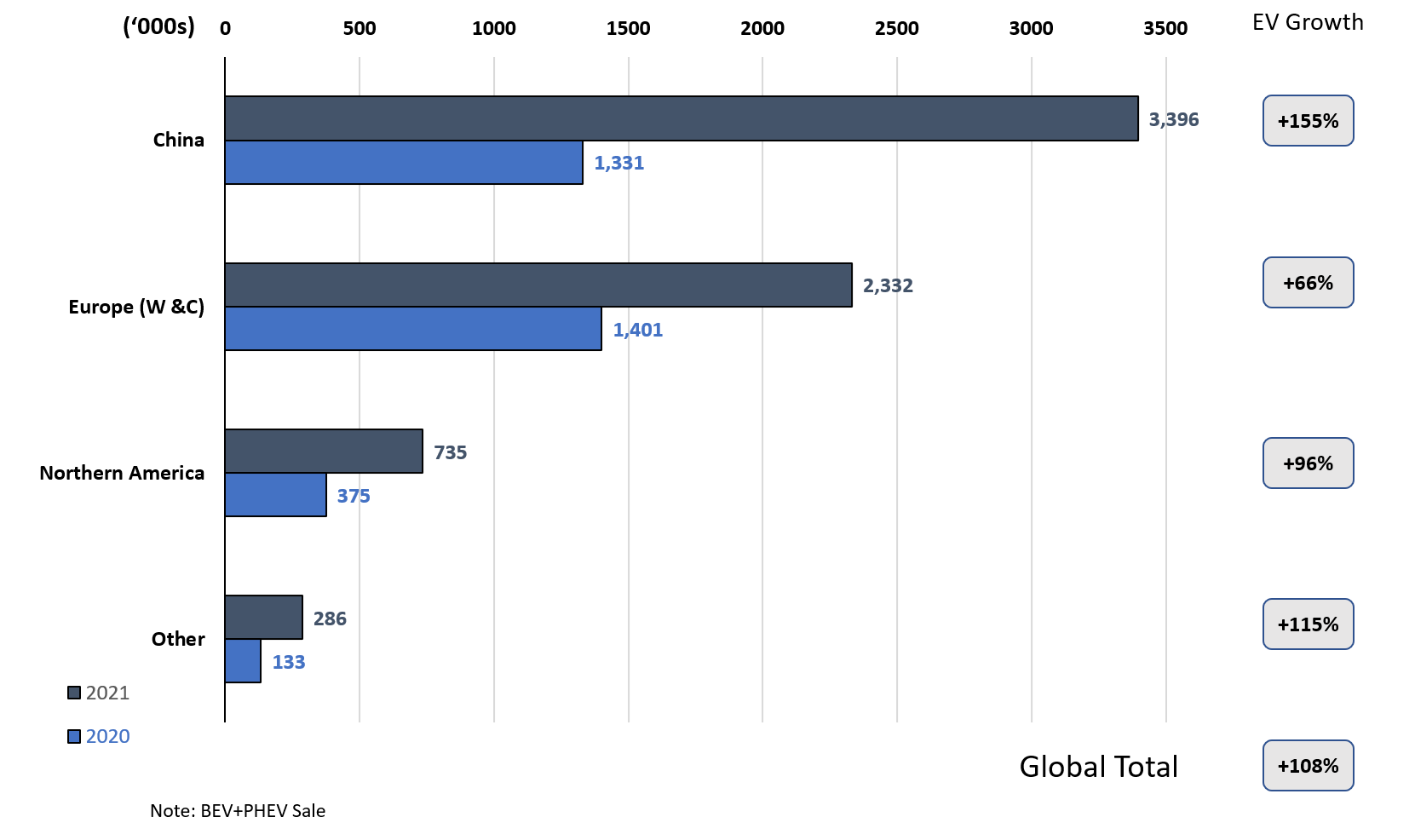 Source: EV Volumes
So, where exactly are we in this vehicle electrification process? Let's start by examining it from a top-down perspective. As illustrated in the graph above (left chart), on a consolidated level, the EV market share more than doubled, year-over-year, in 2021, representing 8.3% of total vehicle sales. The doubling of a market share, albeit from a small base, should spark some curiosity into the industry. But where is all of this growth contribution coming from? Depicted above (right chart), you can see a pretty clear trend. China, along with Western & Central Europe, are outright leaders in the EV rat race, while North America, primarily the US, has been a perennial laggard. On paper, where it stands today, the US is the third-largest market for EVs - however, its vehicle sales are only a fraction of that in China and Europe. Variations between market share by region are also rather disparate. In 2021, China was able to increase its EV market share from 5.5% to 13.3% (y/y), Europe from 10% to 17% (y/y), and North America from 2.3% to 4.4% (y/y).1
Now what exactly do these figures tell us? Well to start, the announced regulatory targets for a 50% EV share by 2030 in certain regions (namely the US) might be a bit overly ambitious.2
The Dawn of the Vehicle & Battery Wars
Now that we've covered the EV industry at a high level, let's dive into the complexities of achieving such high target EV market shares. With anticipated EV penetration targets multiple orders of magnitude higher than where they are today, it is important to understand the potential multi hundred-billion-dollar industry component powering an electric vehicle, and also the key topic of geopolitical angst. Analogous to conventional vehicle engines are their electrochemical counterpart the EV battery. These batteries come in various formats (raw material composition) and shapes (cylindrical, pouch, and prismatic), and the combination of the two creates a final EV battery solution with inherently different power outputs.
The paradigm shift we are experiencing in electrifying global auto fleets, (across the spectrum of light, medium, and heavy-duty vehicles) has created a surge in demand for this key puzzle piece. Interesting to note, auto manufacturers have long viewed batteries in the same light as engines: that is, a commoditized part of the overall vehicle, both one of several thousand components to the vehicle value chain. However, whereas engines are predominately fabricated from abundant metal alloys, the EV battery, which makes up as much as 40% of a vehicle's value, is highly exposed to complex/technical raw material supply chains. With this complexity has brought about the dire need for auto manufacturers to gain monetary and regulatory support from their respective governments and implement business strategies that have battery supply chain security at the top of the list.3
Why is EV battery security so important? As stated by EY Parthenon, Ernst and Young's global strategy consulting arm, regional trade protectionism, rapid technology evolution, and interdependencies between the battery and wider auto Original Equipment Manufacturer (OEM) operations mean that decisions relating to EV battery supply, strategic footprint, cycle plan, and the market equation become more interrelated and sensitive.3 Another key risk that is even more interrelated and sensitive on a geopolitical scale is the rising risk of resource nationalism. The EV battery supply chain starts with countries & companies harvesting upstream assets, producing downstream assets, and controlling the output and subsequent market.
Within this highly complex EV battery supply chain, there are inherently multiple layers of risk in constructing a final EV battery product. Looking at the upstream portion, there are raw material miners/refiners; in the midstream portion there are suppliers that manufacture the battery materials and components; and then further downstream you have cell, module and pack manufacturers. At each stage of the battery supply chain, auto OEMs will likely need to work with these critical ecosystem partners to adequately secure supply.
Who is Winning the Vehicle & Battery Wars?
In our piece, All Roads Lead to and from China, a key example of supply chain cornering and manufacturing dominance was brought front and center. Now looking at the chart below, we can see a rather crystal-clear picture painted. Relative to China, the EV battery mega factory (also known as Gigafactory, +1GWh of annual production) capacity in other regions pales in comparison. Now there can be a couple of key observations and questions posed here:
China is unlike many of the regimes listed on this map. It has a mastermind in emperor Xi playing chess in the EV rat race, while other nations are playing checkers. The regime has (up until a few years ago), welcomed auto and battery OEMs with open arms, both domestic and foreign, with substantial state backing of the industry. As a result, it is home to 4 of the 10 largest EV battery manufacturers globally, while also controlling over 80% of battery capacity globally!4
Now, how do other nations compete with such a large whale and still provide security to battery supply? One potential way is to form coalitions with friendlier regimes with the goal of reducing concentration, and diversifying suppliers to mitigate risk.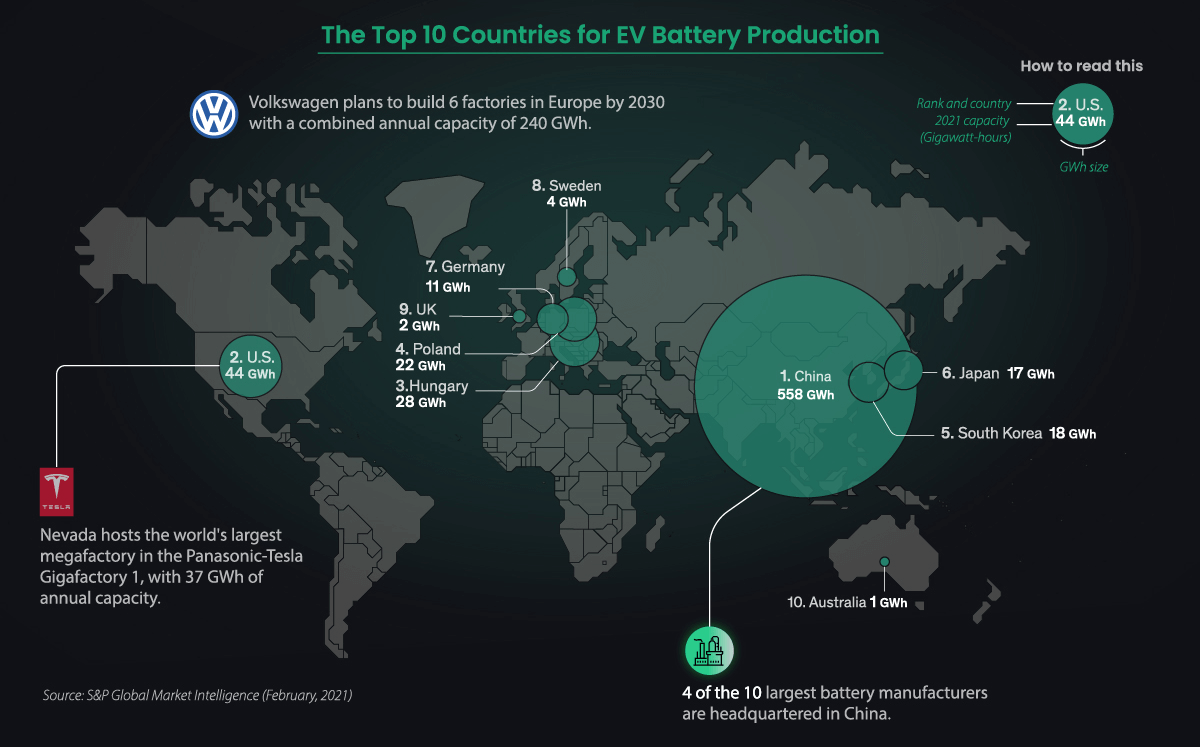 Source: Visual Capitalist
EV battery Manufacturers: Introducing the Big 6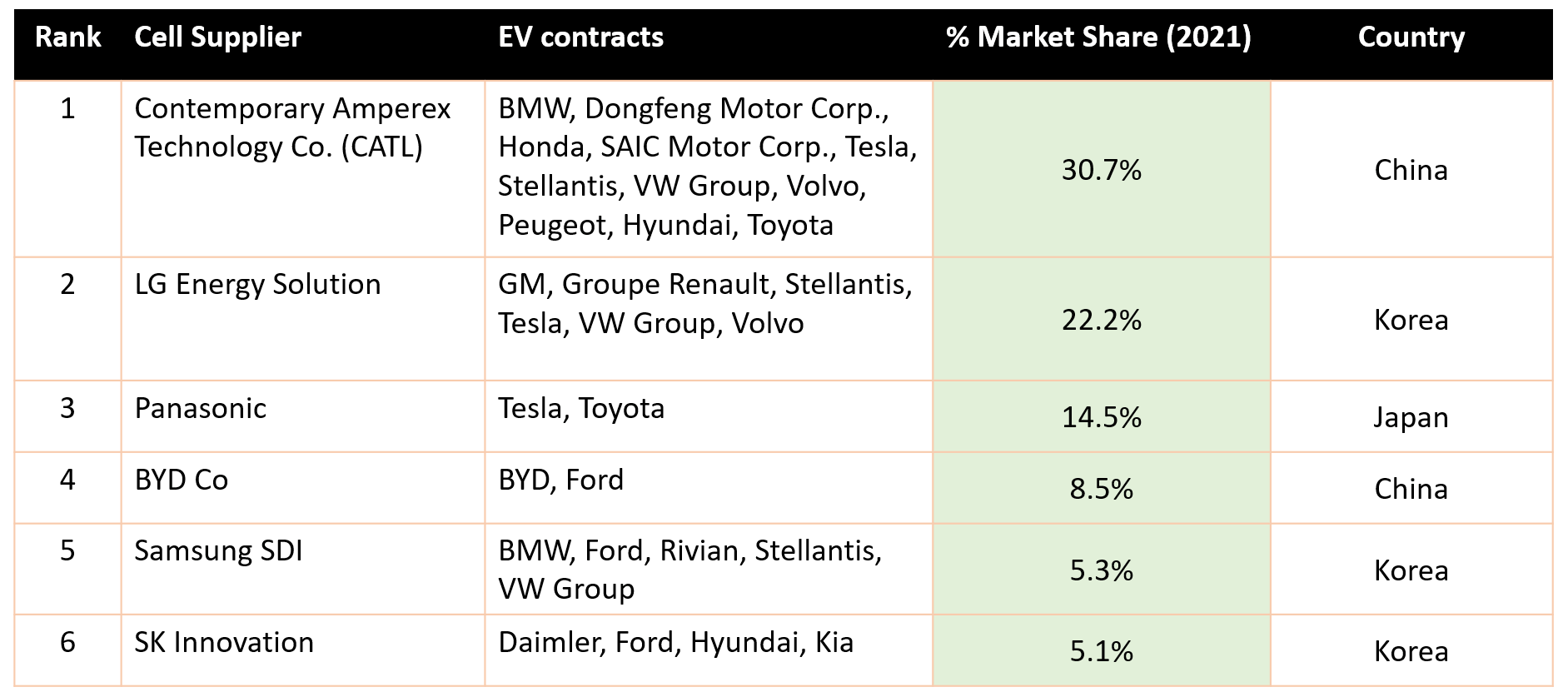 Sources:
Visual Capitalist
Mining.com
By global market share, Asia has far and wide been a hotbed for battery sector innovation with the top 10 EV battery manufacturing companies headquartered in Asia. Over the past decade, Contemporary Amperex (CATL - 300750.CH) out of Ningde, China has been the EV battery supplier of choice for many major auto manufacturers due to a variety of factors such as battery cost, performance, reliability, and scale. China is also home to the 4th biggest battery manufacturer, and Berkshire Hathaway backed BYD co (BYD – 1211.HK) - A vertically integrated auto company beginning to open up its battery supply to foreign auto companies. Beyond China, are the famed Korean and Japanese battery manufacturers looking to take share away from CATL - LG Energy Solutions (373220.KS), Panasonic (6752.T), and SK innovation (096770.KS). Multibillion-dollar corporations that are piquing the interest of developing EV ecosystems that are looking to reduce the growing reliance on China.
The Need for Localized Production and Supply
So to bring this full circle, what have the last few years taught us about any one region or any one company excising exuberant power over an industry? If a regime controlling 80% of a critical asset's output goes on complete lockdown and capacity utilization goes to zero, well, the rest of the supply chain cannot adequately operate, EV production diminishes, and achieving EV targets becomes more challenging. Even looking past many of the economic issues we have raised about China's dominance of the EV space, as we recently covered in our piece China, Russia and the West: A Game of Chess, China's authoritarian government offers significant other risks to the global supply chain.
As the world looks to reduce its reliance on China in the sector, the response has been an expansion of EV battery Gigafactories by non-Chinese companies and investors. Ultimately the two charts below deserve a report of their own, but depict the current initiatives unfolding in the developed world to regain EV sovereignty - and hopefully, in turn, to diversify concentration risk. As you can see, there are a host of emerging battery companies that are hoping to take on the majors and take a share of this growing market.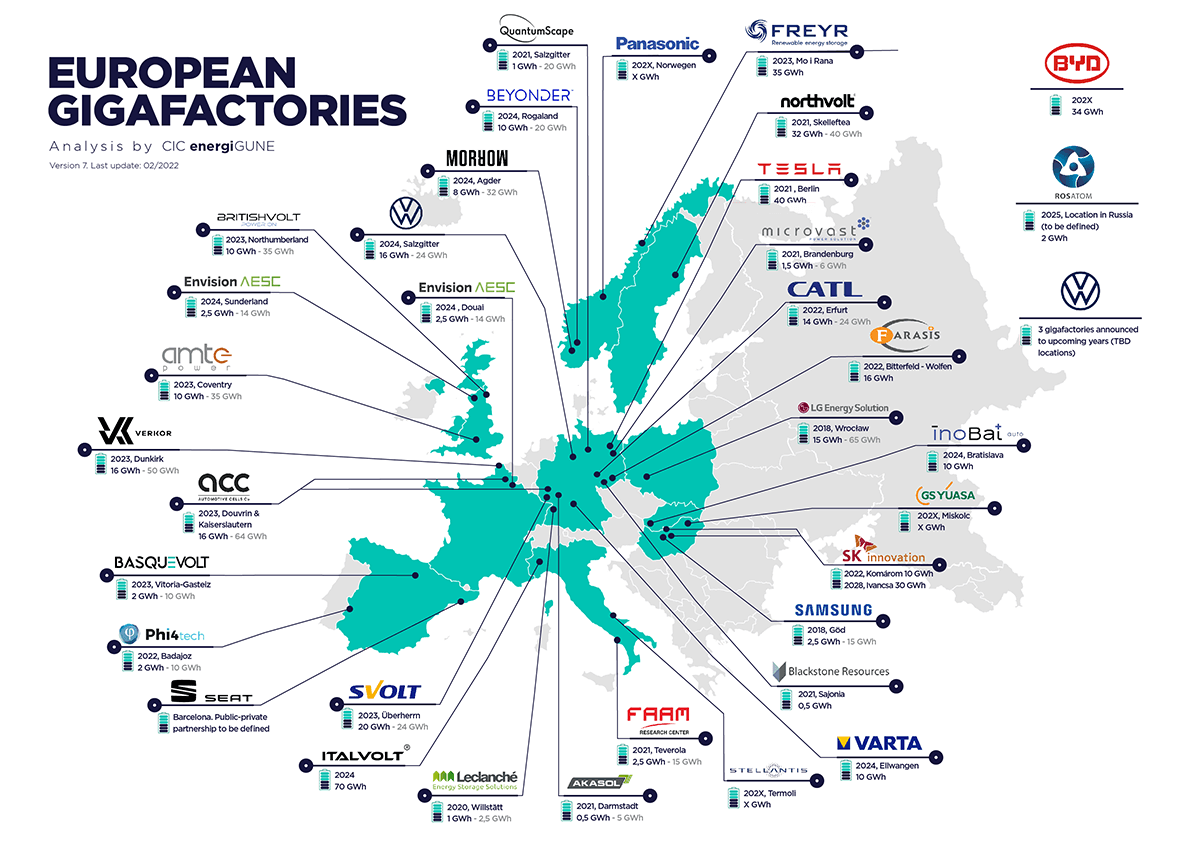 Source: European Gigafactory Pipeline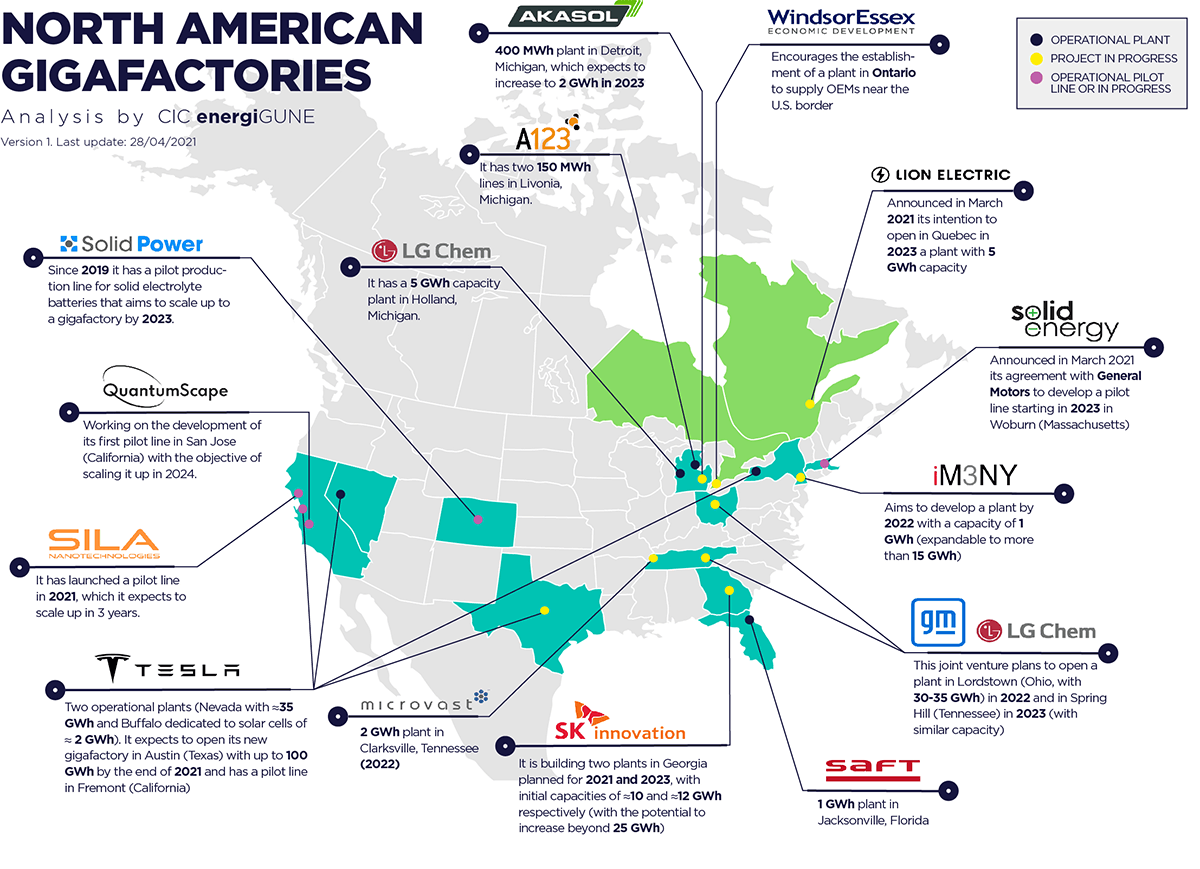 Conclusion
If there is a key observation to be made from the EV battery industry, it is that there is potentially an immense sea of value set to be unlocked by the vehicle electrification story. But there are also several risks and limitations to consider, including the complexity of the EV battery industry and the speculative nature of the EV industry at large.
Nevertheless, behind the scenes, there are deep geopolitical nuances that are shaping our EV adoption outcomes, well-staffed teams in R&D laboratories innovating and advancing the technology to further spark demand and profitability, and hundreds of emerging companies adding their hat to the competition to take on hegemons. Many stock pickers have reaped immense gains riding the Tesla wave, but investors may benefit from leaving the investment decisions to teams who spend everyday investing up and down the supply chain. While there is no guarantee that any EV investment strategy will be successful given the uncertain future and risks of the EV market, we seek to provide our advisory network opportunities to take a more risk-averse and diversified approach to gaining exposure to this growing sector - one that includes dedicated fund managers that have navigated multiple cycles and employ deep teams that seek to comprehend these vast dynamics.
Sources:
See which third-party funds on our platform seek to provide exposure to this growing EV space.
For financial advisors only.