Published on March 11, 2022
The Internet of Food: Food Delivery Startups
Food delivery has gotten a major revamp over the years. For those that can remember, food delivery often consisted of scrummaging to find a restaurant's take-out menu, usually pizza or Chinese as the only available options, calling into the restaurant for your order, and waiting anywhere from 45 minutes to hours before your food arrived at your house. Domino's became a poster child in leading the food delivery movement. By 2017, Domino's overtook Pizza Hut as the world's most valuable pizza chain.
Now food can be delivered with a couple of clicks and, in some instances, breakneck speeds of 30 minutes or less. Food delivery businesses come in many shapes and forms. They range from platforms that partner up with restaurants and drivers to a fully integrated model where everything is kept in-house. In the platform-to-consumer model, third-party apps connect customers within close proximity to restaurants via an app or website. Some notable examples of this model in the U.S. include DoorDash, UberEats, and Postmates.
While food delivery applications are hard to build and even harder to execute, they possess a tremendous amount of potential. According to Crunchbase, food delivery startups have raised a combined total of $15 billion in over 800 rounds of venture capital funding. Many went on to become integral parts of our daily routines.
Food delivery has been receiving interest from venture capital investors looking to further the innovation in the sector. Like other sectors, the COVID-19 pandemic shifted consumer behavior and highlighted the importance of food delivery to a homebound society. In this piece, we'll discuss the current opportunity set, future drivers of growth, and potential risks that have been observed for food delivery startups within the industry.
Current Opportunity Set of Food Delivery Startups
Food delivery in the U.S. and other developed markets has exploded from the greater accessibility of the internet and pandemic lockdowns shutting people indoors.
Breakthrough Food Delivery Startups: How did we get here?
In short, the COVID-19 pandemic helped accelerate the current state of food delivery. Much like other sectors, the COVID-19 pandemic changed consumer behavior and highlighted the need for further innovation. The lockdowns of the pandemic had forced people to stay in their homes, leading many to cook for themselves or seek options other than dining at restaurants. As the trend of baking homemade sourdough bread satisfied some people's hunger, those that missed the joys of eating at restaurants turned to food delivery while reminiscing the "old normal".
Food delivery was seen as a lifeline for many struggling restaurants and expected to remain around for the future of dining. This reportedly led to the global food delivery market tripling since 2017 to $150B. In particular, data shows that developed food delivery markets such as Canada, Australia, the United Kingdom, and the United States saw their markets grow by four to seven times from 2018 to 2021.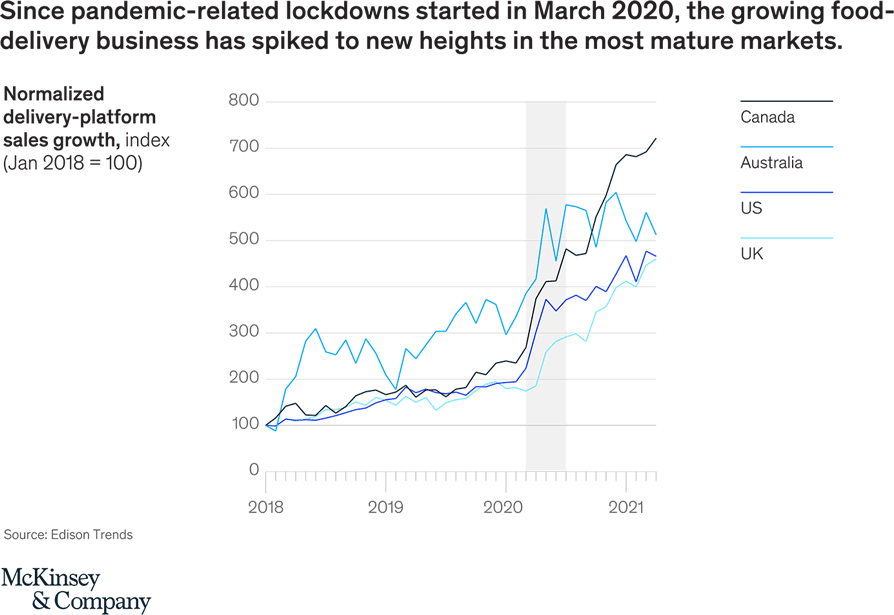 As shown above, the restaurant industry in the United States was increasing at a rate of 3 to 4 percent each year prior to pandemic-related lockdowns in March 2020. Sales of delivery services were growing at about double that rate (7 to 8 percent). While population growth played a role, much of the rise came as millennials and Gen Zers prefer the convenience of ready-to-eat meals over making their own food from groceries.
As mentioned earlier, the food-delivery market exploded between March and May 2020 in Europe and the United States, when the most severe lockdowns were in place. While some concerns exist about consumer trends post-lockdown, the data currently shows that the food delivery market has maintained that growth trajectory through 2021 as vaccinations prompted many cities to reopen, which could mean that the eating habits established at the onset of the pandemic will continue.
Sources:
McKinsey, September 2021, Ordering in: The rapid evolution of food delivery
Mashed, August 2021, Nancy Silverton Weighs In On The Sourdough Pandemic Craze Exclusive
Key Geographic Markets for Food Delivery Startups
Looking forward to the future of food delivery startups, some experts see the trends of the developed markets moving towards developing markets. They believe as developing markets increasingly become online and generate more wealth, those consumers will favor food delivery services.
Where does the growth lie for food delivery?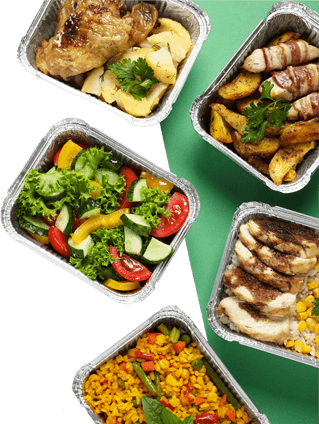 According to a research report published by The Business Research Company on the online food delivery services industry, the growing working population has increased the adoption of online food services during the forecast period 2020 to 2025. The expansion of the online food industry in India has been aided by a huge concentration of young employees with high discretionary money and easily accessible internet facilities in urban areas. Furthermore, a rising proportion of women working in large corporations in metropolitan regions has led to an increase in online orders.
Some experts also believe that Africa and South America are the fastest-growing regions for online food delivery services, with annualized growth rates of 27% and 16%, respectively. This growth potential presents an opportunity for savvy startups to provide services to the area, thereby creating an investment opportunity for private market investors as venture capital looks to fund these growing startups.
Source: GlobeNewswire, December 2021, Online Food Delivery Services Market Growth To Accelerate At Rate Of 11% As Per The Business Research Company's Online Food Delivery Services Global Market Report 2021,
Investor Interest in Food Delivery Startups
Venture capital and private equity are paying attention to the growth opportunity in food delivery and putting capital to work in these budding food delivery startups with varying models.
Why are some investors attracted to the food delivery space?
Food delivery can be seen as recession-resistant in certain cases, as demonstrated by its success during the pandemic. As the pandemic ravaged discretionary industries, food delivery surged. While the Covid-related lockdowns were a highly unique situation at the time, younger generations, such as Millennials and Gen-Z, particularly showed preferences for prepared foods and helped further the demand for food delivery.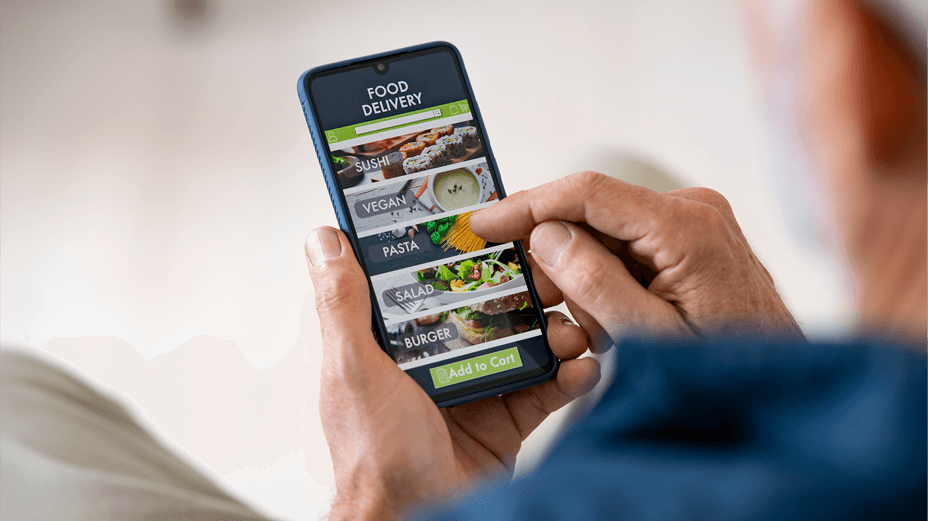 There are a few different food delivery models that take the bulk of the $150B industry:
Platform to Consumer Model: In the platform-to-consumer model, third-party apps connect customers within close proximity to restaurants via an app or website. For facilitating the transaction and delivery, the platform takes a ~20-30% fee from the order value. Notable examples include DoorDash, UberEats, and Postmates.
Full-Stack Model: The Full Stack model is one of the newest additions in food delivery taking the market by storm. In this model, restaurants build the app, cook the food, hire the drivers, but with one key caveat. The ghost or cloud kitchen concept allows the business to operate with a fraction of the footprint compared to traditional dining, meaning people cannot dine onsite and orders are taken strictly for delivery. The concept allows a food business to build operating efficiencies, and at scale can aid a business to further profitability as they control more of the value chain.
Restaurant to Consumer Model: In the restaurant-to-consumer model, restaurant chains like McDonald's, Dominos, Burger King, etc. tapped into the platform-to-consumer model, relying on some of the larger platforms to deliver items to customers. To modernize themselves, these companies began to develop app-based solutions where customers could order directly with their in-house platform and earn rewards for doing so.
McKinsey's report on food delivery startups noted the increased investment in the sector post-pandemic while highlighting numerous private companies that received hundreds of millions in fundraising rounds.
According to a recent PitchBook report on AI opportunities in foodtech, data on consumer shopping behaviors and new data capabilities have laid the groundwork for a new generation of foodtech companies that can use data to predict consumer trends, reduce food waste in manufacturing facilities, and help consumers find products.
Sources:
McKinsey, September 2021, Ordering in: The rapid evolution of food delivery
Wolt Homepage
REEF Technology, About Us
Rebel Foods
PitchBook, June 2021, Foodtech deals surge on VC 'exuberance' even as lockdowns lift
Risks
However, the potential for growth doesn't come without risk. Venture capital and private equity require investor capital to be locked up for years and provide limited reporting, often transactions are valued quarterly with a one-quarter lag – meaning the end of year performance is posted sometime in April the following year. This lack of liquidity and transparency can be viewed as the trade-off investors make to access these earlier-stage growth companies.
Food delivery as a sector is susceptible to specific risks and concerns. Inflation is raising concerns for most industries but is particularly disruptive to food delivery startups. As most recently reported by Bloomberg, inflation reached a 39-year high of 7% in 2021.
Rising inflation leads to increased costs for food delivery companies to the razor-thin margins present in the space. As these companies pass along the higher costs to consumers, the higher prices may be a sticking point for consumers to shift their behavior away from food delivery.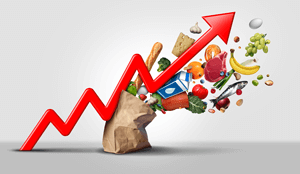 Rising Inflation
Inflation is also applying pressure for businesses to offer higher wages, threatening both the company's profits and labor retention. Businesses are faced with the conundrum to either take a hit to their profits by providing higher wages to retain talent or risk facing a labor shortage, which may impact their service. The food delivery startups promising fast service need to provide competitive wages to keep a fleet of delivery drivers, especially if demand rises for the service.
This can be especially challenging as food delivery startups must compete against larger and more established food delivery companies. Consumer preference for more well-known and potentially cheaper alternatives will be a huge obstacle.
Sources:
Bloomberg, January 2022, U.S. Inflation Hits 39-Year High of 7%, Sets Stage for Fed Hike
Fortune, December 2021, Up and down the supermarket aisle, food prices are rising in 2022. Here's where you'll pay more,
Marketing Tutor, SWOT Analysis of Food Delivery Service Business
Conclusion
Food delivery startups benefited from the pandemic initiating lockdown and increasing the reliance on technology to deliver food to a homebound society. However, as we emerge from the pandemic, some experts note that the reliance on food delivery could remain and even grow in more developing markets, such as South America and Africa.
This growth opportunity may attract private market investors looking to fund the next generation of food delivery startups, but it is not without the risks and limitations associated with private equity and venture capital, as well as risks that are unique to food delivery startups. Nevertheless, venture capital and private equity managers are still searching for the next growth opportunity in the world of food delivery startups.
Explore third-party venture capital and private equity funds on our platform investing in next-generation food delivery startups.
For financial advisors only.