Published on October 5, 2021
The Global Chip Shortage, Future Trends, and Investment Opportunities
Insight Highlights
Learn which institutional private equity and hedge funds on our platform are investing in the semiconductor space and how your clients can participate.
For financial advisors only.
Semiconductors are key components in the computer chips that help power almost every electronic product from smartphones, cars, and laptops to televisions, washing machines, and game consoles. Due to the COVID-19 pandemic, the past year has seen a chip shortage that led to a wide-scale disruption in the supply chain related to the manufacturing of electronic goods. This supply shortage has been particularly prominent in the production of vehicles, with several auto manufacturers announcing that they will be cutting production.
Toyota, Ford, and Volvo are among those that have had to either slow or temporarily halt production at their factories. Smartphone makers are feeling the pinch too, with Apple warning that the shortage could affect iPhone sales.
In sharp contrast, there has been an acceleration in startup funding and dealmaking which is primarily driven by an understanding that the technologies of tomorrow will increasingly need specialized chips to run A.I. and machine learning tasks efficiently, according to PitchBook.
Source: PitchBook, May 2021. "It's US vs. China in race to build chip technology of tomorrow."
What has caused this acute global chip shortage?
This situation has reportedly been developing not just for months, but for years. Key reasons for the global chip shortage are listed below.
Worldwide rollout of 5G in 2019: Koray Köse, an analyst at Gartner, says that among the pressures facing the chip industry prior to the pandemic was the rise of 5G, which increased demand for semiconductors.
Huawei Technologies: China is the world's largest manufacturing hub, producing 36% of global electronic goods and integrated circuitry. As such, the chip supply shortage has hit the country particularly hard, especially after the Trump administration blocked sales of semiconductors to Huawei Technologies, ZTE, and other Chinese firms in May 2020. These Chinese companies began stockpiling chips, which are key components in their 5G smartphones and electronic products.
The Pandemic: As the pandemic unfolded, corporations canceled orders of semiconductors in anticipation of large-scale decreases in demand. However, following record levels of government stimulus and snapbacks in demand, companies all clamored at once to re-order chips essential to the production of their products.
Furthermore, people working from home have needed laptops, tablets, and webcams to assist them with their jobs, all while a global chip shortage was already on the rise.
At times, consumers have struggled to buy the devices they want, though manufacturers have so far been able to catch up with demand. In the past, manufacturers relied on just-in-time inventory to maximize returns on capital but now have begun to over-order and stockpile chips instead.
Further worsening the supply shortage, recent surges in COVID-19 cases from the Delta variant have shut down factories in several Asian countries that are the main producers of auto-grade chips.
Unprecedented weather and factory fire: More recently, bad luck has exacerbated the problem. An atrocious winter storm in Texas shut down semiconductor factories and a plant fire in Japan caused similar delays.
Shipping costs ballooned: Logistical headaches are compounding the situation. The cost of moving shipping containers around the world has ballooned because of sudden shifts in demand during the pandemic.
Chip production time: Chips aren't exactly easy to make, either, with advanced semiconductors taking up to 6 months to produce.
The EV boom: The chip shortage is a significant problem for automakers because new vehicles require a lot of chips. To put this in perspective, a Ford Focus uses roughly 300 semiconductor chips, but a Mach-e utilizes almost 3,000 semiconductor chips. In other words, the EV boom has exacerbated the global semiconductor chips shortage.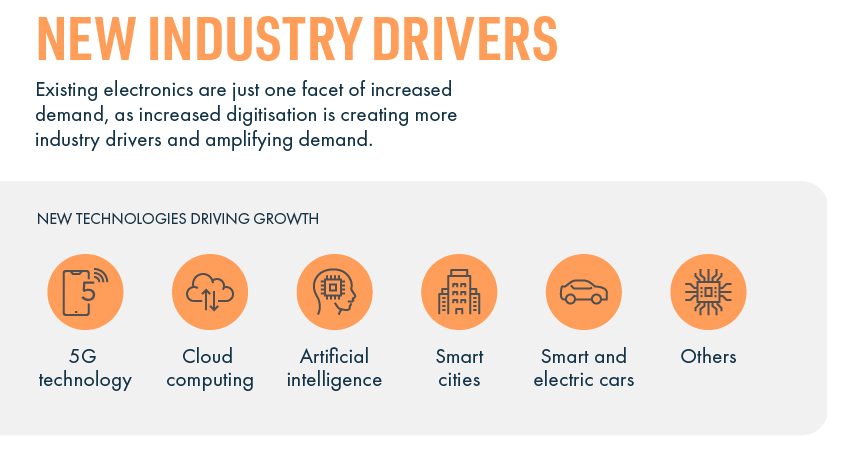 Source: Visual Capitalist
Sources:
BBC, August 2021. "Why is there a chip shortage?";
Investor Place, September 2021. "How the Global Chip Shortage Is Affecting the EV Industry."
The Biden administration
The Biden Administration is also aware of the chip-shortage problem. A June White House report on supply chain vulnerabilities identified semiconductors as one of four priority areas where the U.S. must develop new domestic capacity. But that report acknowledged that "the private sector must take the lead in addressing the shortage" and identified the government's role as one of assisting the process.
Meanwhile, manufacturers such as Intel and Micron are extremely careful about adding new production capacity, which is expensive and requires frequent retooling. The chip business also endures boom-bust cycles that can brutalize producers who end up with overcapacity during a downturn. For manufacturers, tight supply, including shortages, is better than over-investing and facing steep losses in the future.
There are still 20 fabrication plants, or "fabs," producing the most common chips in the U.S., with production centered in California, Texas, Oregon, and Arizona. But South Korea, Taiwan, and Japan all have more global share than the U.S., with China following behind.
Costs related to labor and regulatory compliance are higher in the U.S. than overseas. A 2020 study by Boston Consulting Group and the Semiconductor Industry Association claims the 10-year cost of a chip fabrication plant in the U.S. is 30% higher than in Taiwan, South Korea, and Singapore, and as much as 50% higher than the cost in China.
If the House passes the CHIPS Act and President Biden signs it — which he says he will — it will help fund the construction of 19 new fabs in the U.S., according to industry analysis.
But that won't help with the current shortage. "It takes three to four years to put a fab together," says Pedro Pacheco, senior research director at the Gartner Group. "That's not going to solve the microchip crisis. There's really not a lot that can be done to solve this crisis in terms of building capacity. It takes too long until capacity can be available."
Source: Yahoo! Finance, September 2021. "Why Biden can't fix the semiconductor shortage."
Future Trends, Investment Opportunities, and Potential Risks
Continued demand for chips & semiconductors
The era of 5G, Industrial Internet of Things ("IoT"), autonomous vehicles, and artificial intelligence is expected to drive semiconductor industry revenue to approximately $1 trillion by 2030, up from approximately $450 billion today. As a result, semiconductor manufacturers are investing heavily in new automation and robotics equipment to maximize production capacity.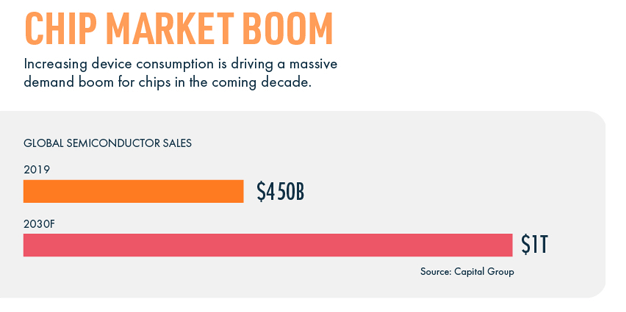 Source: Visual Capitalist
The numbers highlight the incredible strides the chip industry has made. Due to supply chain constraints and an increase in demand for semiconductors following the reopening of the economy after lengthy COVID-19 lockdowns, a global chip shortage has pushed prices sky-high.
John Neuffer, the chief of the semiconductor trade body, believes that the demand for chips will continue to rise substantially in the long term. Firms in Europe, China, and the Americas are all expected to lead this growth.
Producing tools for chipmaking
Companies that produce machinery and tools for chipmaking and semiconductor firms with their own fab capacity stand to gain in this environment. Semiconductor inputs in the auto industry alone are surging due to the adoption of technologies such as driver assistance systems and autonomous driving. Intel projects that semiconductors will account for over 20% of the input costs for new premium cars, up from 4% in 2019.
Chip companies are also doubling down on their capital expenditure plans to capitalize on growing chip demand and the current supply constraints. TSMC, the world's largest semiconductor contract manufacturer, indicates that it would spend about $100 billion over the next three years to bolster production capacity, while the Samsung Group intends to spend around $205 billion over the next three years, with a good portion of the funds going toward its chip business. Even Intel wants to double down on contract manufacturing, recently announcing plans to build new chip-making facilities in Europe, investing as much as $95 billion over the next decade or so. These investment plans should bode well for equipment manufacturers, who could see demand for more cutting-edge chip production tools.
Venture dollars flooding into semiconductor space
Chipmakers and designers have hauled in massive venture funding rounds, as a combination of factors has thrown the industry into disarray.
Roger Hsu, investment manager at ARM IoT Capital Partners — an early-stage-focusing VC sponsored by British semiconductor company Arm Holdings — said three factors are contributing to the shift of the current computing architecture: The huge amount of data in the world; more devices connected together; and A.I./machine learning, which is spurring the need for smarter and more efficient chips.
In April, Palo Alto, California-based SambaNova Systems, a hardware and integrated systems developer, raised a $676 million Series D at a $5 billion-plus valuation. That same month, Mountain View, California-based Groq, an A.I. chipmaker, closed a $300 million round co-led by Tiger Global Management and D1 Capital. And on May 20, Toronto-based startup chip designer Tenstorrent announced it had raised $200 million at a $1 billion valuation.
China, US lead boom in semiconductor VC deals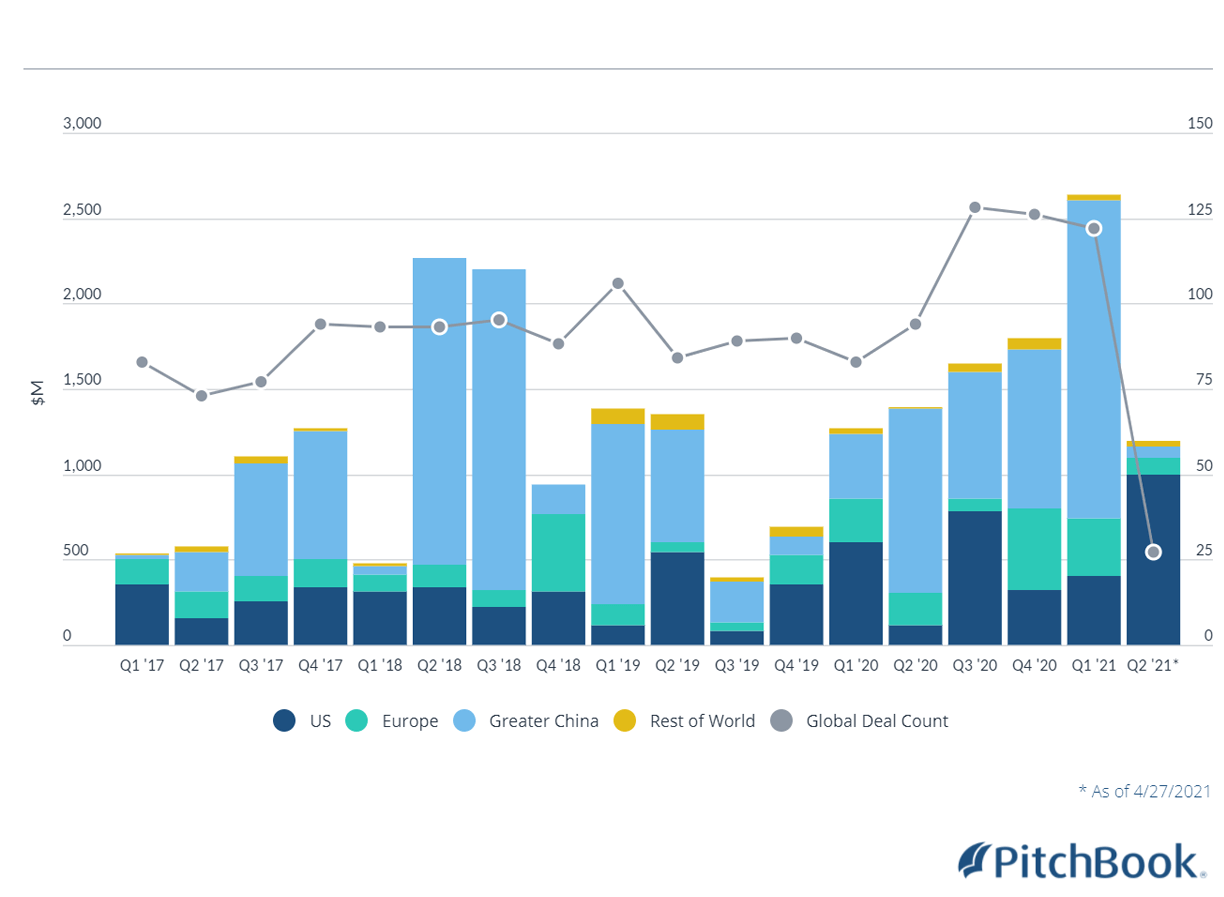 Potential Risks
Chip manufacturing contributes to the climate crisis. It requires huge amounts of energy and water — a chip fabrication plant, or fab, can use millions of gallons of water a day — and creates hazardous waste. However, amid pressure from investors and electronics makers keen to report greener supply chains to customers, the semiconductor business has been ramping up action on tackling its climate footprint. Even as demand for chips continues unabated, there could be risks of future gluts, as industries try to develop chip surpluses for the future and as countries try to build internal manufacturing capacity so they aren't left out in the cold. The semiconductor industry has a history of boom-and-bust cyclicality. Some believe it has transitioned to a more stable state, but that remains to be seen and investments remain speculative.
Sources:
Yahoo! Finance, September 2021. "10 Stocks That Benefit from Global Chip Shortage.";
Forbes, September 2021. "Semiconductor Shortage Is Far From Over, But These Stocks Stand To Gain." ;
Crunchbase, June 2021. "Designing A Better Chip: Venture Dollars Flood Into Semiconductor Space Amid Industry Shortage.";
PitchBook, May 2021. "It's US vs. China in race to build chip technology of tomorrow.";
The Guardian, September 2021. "The computer chip industry has a dirty climate secret.";
Seeking Alpha, August 2021. "Taiwan Semiconductor Is A Chip Manufacturing Giant That Should Be On Investors Radar."
Conclusion
Prices for semiconductor chips across the spectrum are expected to rise, given that the global chip shortage is likely to last until sometime late next year. Moody's Analytics said the trend towards remote work that accelerated due to COVID-19 movement restrictions has given rise to heightened demand for semiconductor chips. "Given the capital-intensive nature of their production process, supply has not been able to keep pace with the increase in demand," it said in a note.
Moody's Analytics noted that the Chinese manufacturing producer price index (PPI) is soaring, and similar pass-through effects can be seen in other manufacturing PPIs worldwide.
At the same time, more big exits and large rounds could be in the future for chipmakers and designers as more data, heavier computing workloads, and the pandemic bring more challenges to our tech-enabled world.
"New challenges represent opportunities," said Roger Hsu, investment manager at ARM IoT Capital Partners. "Wherever there is a bottleneck, lies the need and potential which investment could unlock in the semiconductor space."
Sources:
The Star, September 2021. "Global semiconductor chip shortage likely to get worse, further pushing prices higher.";
Crunchbase, June 2021. "Designing A Better Chip: Venture Dollars Flood Into Semiconductor Space Amid Industry Shortage."
Learn which institutional private equity and hedge funds on our platform are investing in the semiconductor space and how your clients can participate.
For financial advisors only.