Published on March 18, 2022
How the Latest Trends in Robotics Could Be Forming a Golden Era of Adoption
The Pandemic: Driving Some of the Latest Trends in Robotics
2022 could represent a golden era of robotic adoption, according to a recent article published in Forbes. Ever since robots debuted as we generally know them over fifty years ago, they have evolved immensely. Originally, they were simple mechanical devices that did as they were told, working on assembly lines moving things around, and putting them together. With the advancement of technology, we see the applications of robots broadening day by day, in ways we never imagined. Robots have now become vastly more dexterous, mobile, and autonomous. There are now over 3 million industrial robots working in factories across the planet, according to the International Federation of Robotics, a worldwide industry association. Millions more move goods around warehouses, clean homes, mow lawns, and help surgeons conduct operations. Some have also begun delivering goods, both on land and in the air. As a result, some experts anticipate that 2022 will be a critical period in the continued evolution of robotic applications.
The North American robotics industry alone grew 28% year-over-year in 2021 to set a record of nearly 40,000 units sold, according to the Association for Advancing Automation. In 2021, a record $14.9B was poured into robotic investments, indicative of the sector's growing interest from investors, according to Pitchbook. The sector is experiencing wider adoption and more venture investment as a range of factors has increased use cases for the technology. Advances in computing and the internet of things, for example, have combined with pandemic-driven high unemployment, creaking supply chains, and an e-commerce boom to create more need for automation.
Jobs that robots undertake are typically dull, repetitive, mundane, strenuous, and are becoming increasingly hard to fill in today's world. Machines tend to work faster, they don't get tired, and are unemotional as compared to human beings. In many industries, it is less a desire to reduce labor costs that is driving automation than the sheer difficulty of recruiting flesh-and-blood workers. While certain jobs may be eliminated, robots can also help create them by making businesses more efficient, allowing firms to expand. Disruption to supply chains has pushed executives to put an added emphasis on continuity—and robots can work around the clock. And increasingly, robots are gaining traction in industries hit hard by labor tightness. To gain ground on leaders like Amazon, retailers of all stripes are tapping robotics startups for help automating their warehouses. All this represents an intriguing trend that experts encourage us to pay attention to, especially in 2022 when the latest trends in robotics have the potential to emerge big.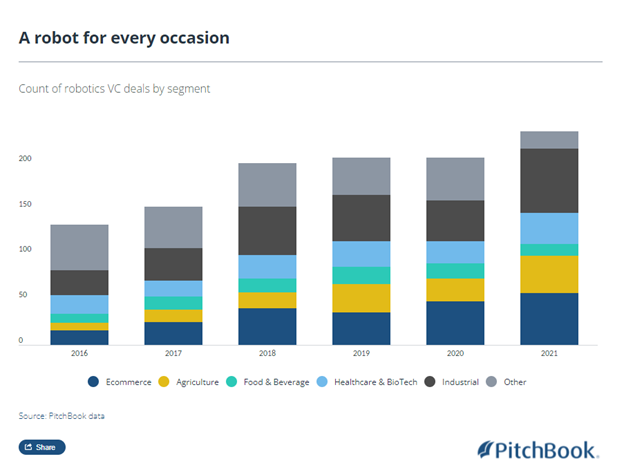 Source: PitchBook, March 2022. "The great robot awakening: Mobile machines take over the supply chain."
---
Sources:
Forbes, January 2022. "Troubling Trend: Great Resignation Versus AI, Robotics and Automation"
PitchBook, January 2022. "Wandelbots' $84M+ Series C Marks Latest Round in Robotics Boom"
The Economist, February 2022. "Covid has reset relations between people and robots."
PitchBook, March 2022. "The great robot awakening: Mobile machines take over the supply chain."
Defining Robots
In this day in age, the term robot is quite ambiguous. There are many different robots, each designed to accomplish various tasks. Robots encompass everything from domestic vacuum cleaning tools to recycling plant sorting machines and even to the mind-boggling possibilities of autonomous humanoids, like Elon Musk's Tesla Bot that is currently in the innovation pipeline.
However, succinctly put, robots are automated machines engineered to perform specific tasks with little to no human interaction. And while they may differ in function and appearance, they all share three things in common: mechanical construction, electrical components, and computer programming.
Sources:
Wall Street Journal, January 2022. "Robotic Arms Are Using Machine Learning to Reach Deeper into Distribution
National Law Review, January 2022. 5 Trends to Watch in 2022 Robotics
Forbes, January 2022. "Troubling Trend: Great Resignation Versus AI, Robotics and Automation"
What can we expect of the latest trends in robotics in 2022 and beyond?
Below highlights some of the latest trends in robotics that have been reported amongst a few influential industries. While we cannot precisely predict what we will see in 2022 and beyond, the following provides a potential framework for robotic industry trends in the future.
I. Construction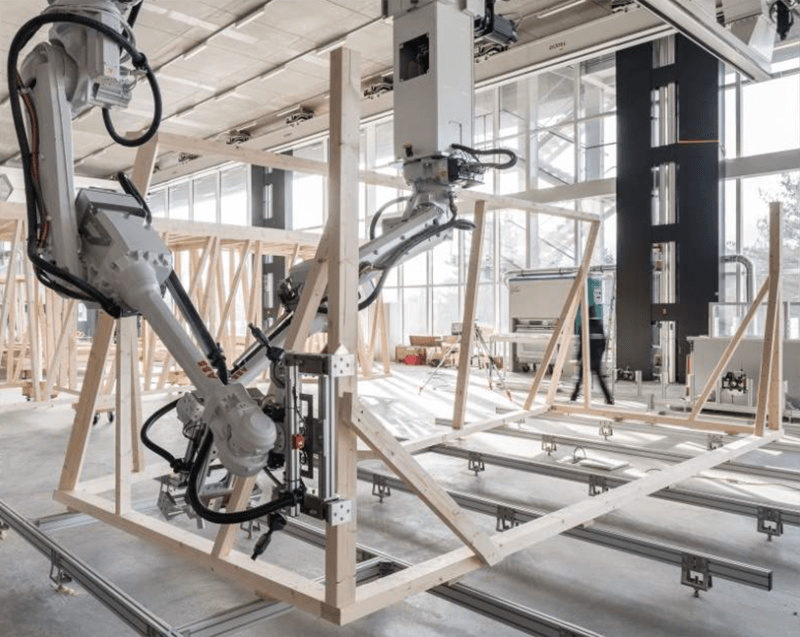 Historically, construction has been regarded as a tech-resistant industry with relatively low productivity levels. A study conducted by McKinsey indicated that between the years 1947 and 2010, productivity levels in construction barely changed at all. Meanwhile, more tech-embracing industries, like manufacturing and agriculture, increased their productivity levels by a factor of eight and sixteen, respectively.
Ultimately, waning productivity, labor challenges, and soaring construction demand have helped prompt construction executives to seek robotic solutions. Some experts predict that construction will be one of the top adopters of automation in 2022. Already, we have seen new developments in things like 3D printing, automated rebar tying, paint site surveying, bricklaying, and material hauling. According to a report published by Allied Market Research, the global construction robotics market can be expected to reach $7.9B by 2027, growing at an impressive CAGR of 23.3%.
Sources:
McKinsey & Company, December 2019. "The impact and opportunities of automation in construction"
Robotics Tomorrow, December 2021. "How Automation and Robots Will be Used in 2022"
PR Newswire, February 2021. "Construction Robotics Market to Reach $7.88 Bn, Globally, by 2027 at 23.3% CAGR."
II. E-Commerce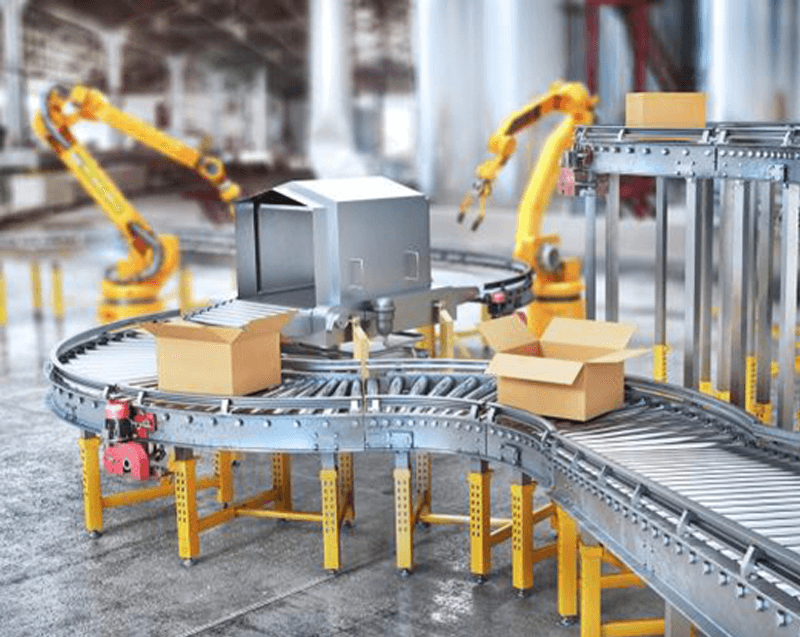 As e-commerce orders continue to surge and the competition for workers intensifies post-pandemic, robots are serving as an indispensable tool for some major companies. Notably, Amazon has led the push to adopt robotics in e-commerce, using smart warehouses.
Popular trends in warehouse automation include using robotic arms, which are used to pick and sort e-commerce orders. These robots have proven to perform with 99% accuracy – just as good, if not better, than their human counterparts. Additionally, these robots have an advantage, as they can run for two shifts straight, without pause.
Puma North America Inc. – a division of Puma SE, the sneaker brand – is just one example of a brand relying on robotic arms in its distribution facility. Their robotic arms are equipped with a combination of cameras, grippers, and AI technology that allow them to pluck specific items from large bins that they then pass off to another automated system that delivers them workstations – which are staffed with human employees.
According to Businesswire, the global warehouse robotics market size in 2021 was $4.0B, trending largely in part because of growth in E-commerce and automation in areas such as sorting and packaging. Automation in warehouse robotics can be expected in conjunction with the E-commerce sector. This report by BusinessWire expects the segment to grow at a CAGR of 11.9%, achieving a projected market size of $8.9B by 2028.
Sources:
Forbes, March 2021. "Robotics Firms Garnered $6.2 Billion in Venture Funding During The Pandemic Year
Wall Street Journal, January 2022. "Robotic Arms Are Using Machine Learning to Reach Deeper Into Distribution
III. Food Retail
The world of food retail is seeing automation erupt in creative ways. From autonomous pizza-making robots to robots designed to deliver coffee to your front door, automation in the food retail space has blossomed with advancements in technology. By 2028, restaurant dive reports the industry could be worth $322M by some estimates, nearly quadrupling from the $86.2M market value in 2020.
Sources:
Robotics Tomorrow, December 2021. "How Automation and Robots Will be Used in 2022"
Bloomberg, January 2022. Robots Delivering Bento Boxes Trialed in Tokyo Financial Hub
Crunchbase
Restaurant Dive, November 2020. "The cooking robotics space expected to be a $322M business by 2028, study says."
IV. Manufacturing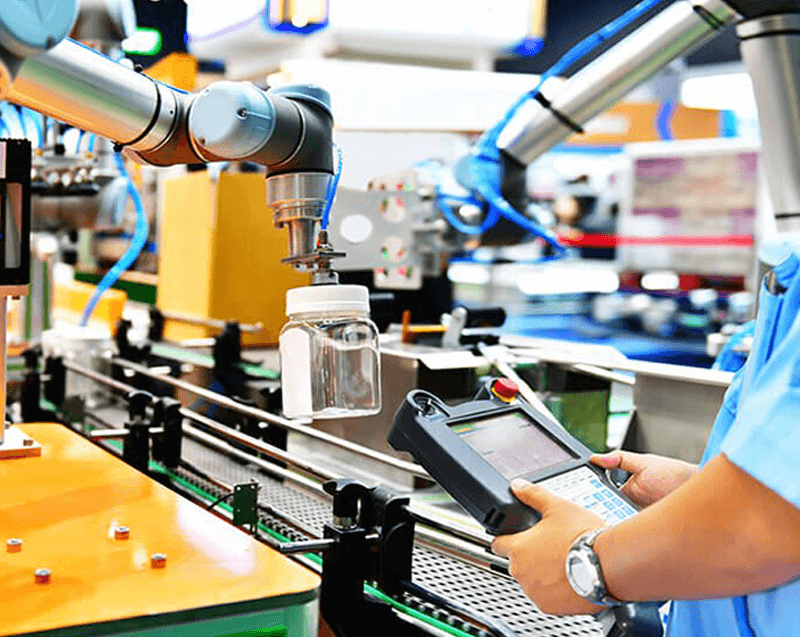 Manufacturing and robotics have traditionally gone hand-in-hand. However, we are seeing a shift in the way robots are being used. Historically, robots have been utilized in relatively simple, repetitive, and physically rigorous manufacturing contexts - like assembly lines in car factories. Now, robots are being used, alongside human talent, to complete much more rigorous and complex tasks.
Industrial robots – robots that are automatically controlled and reprogrammable in multiple axes – are commonly used in manufacturing. Industrial robots are primarily concerned with optimizing process performance, increasing productivity and efficiency, speeding up product development, and lowering cost - just to name a few. Robotic assembly lines, autonomous quality control methods, and collaborative robotics are some prominent industrial robotic themes being reported. According to data collected by Forbes, the 10-year growth forecast for industrial robots may double from $16B to $37B.
Sources:
Forbes, January 2022. "Troubling Trend: Great Resignation Versus AI, Robotics and Automation"
BCG, 2021. "Robotics Outlook 2030: How Intelligence and Mobility Will Shape the Future"
V. Healthcare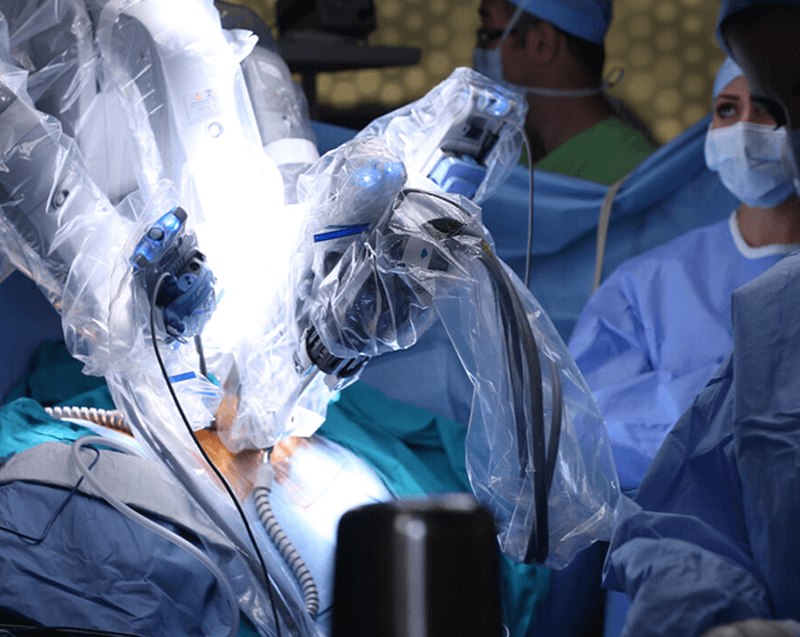 Undoubtedly, the pandemic changed the healthcare landscape, imposing unprecedented challenges that many healthcare systems around the world were not prepared to handle. However, AI and robotics have helped in alleviating many of these challenges.
Beyond the context of the pandemic, many extremely complex robotic applications are helping revolutionize the latest trends in robotics. Applications of robotics in healthcare stem from autonomous mobile robots with UV lamps to disinfect and clean areas from bacteria and viruses used during the pandemic, to surgical robot machinery. However, with mounting pressure to innovate, they have experienced an influx of intense competition according to industry reports.
Sources:
Robotics Tomorrow, December 2021. "How Automation and Robots Will be Used in 2022"
Financial Times, January 2022. "Robots give surgeons a helping hand."
Craft
VI. Transportation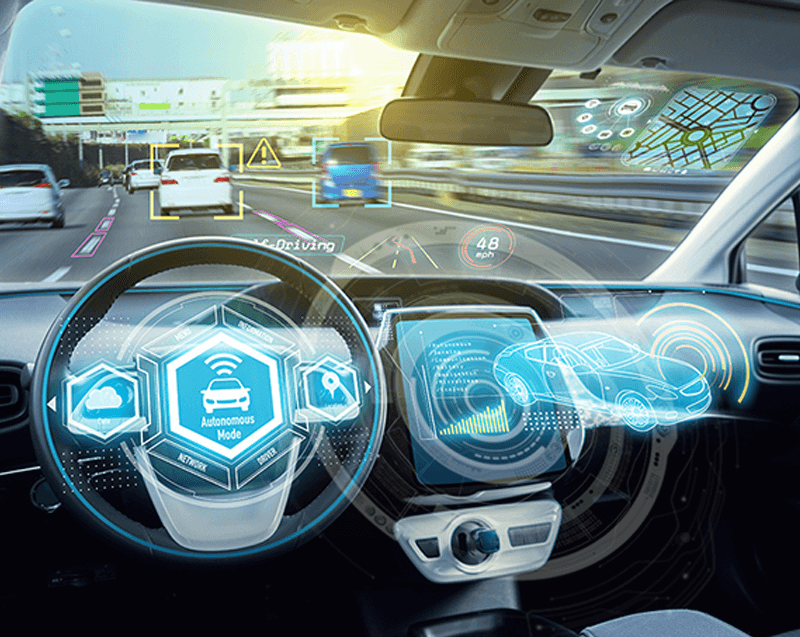 Self-driving cars have been one of the most coveted themes in automation. As interest in self-driving reportedly grows, companies continue to compete in the race to the finish line: putting a fully autonomous vehicle on the roads. Tesla, Alphabet Inc.'s Waymo, and Cruise - to name a few - are among the notable companies working tirelessly to deploy fully autonomous vehicles to the roads. According to the Wall Street Journal, Elon Musk continues to emphasize Tesla's focus and priority in delivering self-driving cars to the market, which we could see as early as 2022.
Meanwhile, Waymo - a sister company of Google - announced a $2.5B investment round in June. Similarly, Cruise secured an additional $1.3B in early 2022. Waymo and Cruise have both focused on robo-taxis, with Waymo already operating fully autonomous taxis - with no drivers - in Chandler, Arizona.
This race has been far from easy. The sheer complexity of the roads and the engineering of AI have led to persistent delays in the advancements of self-driving vehicles. Additionally, legislative roadblocks make it difficult to know whether autonomous cars will ever truly come to fruition, but data still indicates that transportation is one of the latest trends in robotics.
Sources:
Global Newswire, August 2021. "At 22.7% CAGR, Global Autonomous Cars Market Share Revenue Expected to Reach USD 64.88 Billion by 2026: FnF Research"
Wall Street Journal, January 2022. "Elon Musks Decision to Slow New Tesla Models Risks Holding Up Growth"
Wall Street Journal, December 2021. "The Race for Self-Driving Taxis: Waymo Puts Urban Terrain to the Test"
CNBC, June 2021. "Alphabet's self-driving car company Waymo announces $2.5 billion investment round"
Conclusion
There is little denying that the adoption of robotics is on the rise. Some experts anticipate that throughout 2022, robotic innovation will continue across various sectors - from construction and manufacturing to healthcare and transportation. Although it is impossible to predict the future direction of the latest trends in robotics, it is indeed quite possible that we will experience more widespread adoption of robotics in various sectors.
Various news sources have reported that venture capital, private equity, and other strategic outlets will continue to seek and steer the development of disruptive robotic technologies throughout 2022 and beyond. While the future is uncertain, the latest trends in robotics are seeking to innovate our everyday lives.
Source: National Law Review, January 2022. 5 Trends to Watch in 2022 Robotics
Learn more about the third-party private equity and hedge funds on our platform that invest in innovations in the robotics sector.
For financial advisors only.