Published on October 14, 2021
Facebook's Reported Effect on Teens & Investment in Mental Health Startups
Insight Highlights
Learn which institutional private equity and hedge funds on our platform are investing in healthcare.
For financial advisors only.
Facebook is in the hot seat again. The Wall Street Journal published a powerful multi-part series on the company regarding the effects of mental health on users. One of the biggest allegations from the WSJ's report: The company knows that Instagram poses serious dangers to mental health in teenage girls. Criticism of social media's impact on mental health has been building for years, amplified by documentaries like The Social Dilemma and vocal lawmakers, among others.
Sources: Tech Crunch. September 2021." Facebook knows Instagram harms teens. Now, its plan to open the app to kids looks worse than ever."; Robinhood, September 2021. "Insta's mental health toll."
"Thirty-two percent of teen girls said that when they felt bad about their bodies, Instagram made them feel worse," according to Facebook's internal message board, as reported by WSJ. "Comparisons on Instagram can change how young women view and describe themselves." "Teens blame Instagram for increases in the rate of anxiety and depression," said another slide. "This reaction was unprompted and consistent across all groups." Among teens who reported suicidal thoughts, 13% of British users and 6% of American users traced the desire to kill themselves to Instagram, one presentation showed.
Source: The Wall Street Journal, September 2021. "Facebook Knows Instagram Is Toxic for Teen Girls, Company Documents Show."
The WSJ article sheds light on a growing issue in mental health. The Biden Administration has announced nearly $85 million in funding for mental health awareness, training, and treatment.
The funding includes $10.7 million in funds for the Pediatric Mental Health Care Access Program, which trains primary care providers to treat and refer kids for mental health issues. Another $74.2 million in grants is being distributed to raise awareness about youth mental health issues and train school personnel and programs that coordinate treatment for young people with emotional disorders.
"We know what's coming," Health and Human Services Secretary Xavier Becerra said. "The wave of stress, the mental strain, the disorientation and disassociation that so many of our children are feeling today — they're going to need help, and not just from their parents and their loved ones, they're going to need help from us all." Since the start of the pandemic, emergency departments around the country have seen a proportional rise in children showing up amid mental health crises. Pediatricians and child and adolescent psychologists and psychiatrists have reportedly seen more patients with anxiety, depression, eating disorders, and suicidal thinking and attempts over the past year.
Source: Source: NPR, August 2021. "Children's Mental Health Gets Millions In Funding From The Biden Administration."
Mental Health is Changing the Investment Opportunity Landscape
In 2019, around 11% of U.S. adults reported experiencing symptoms of anxiety or depression, which skyrocketed to 42% by December 2020. By year-end, venture investors poured a record-setting $1.5 billion into mental health-related startups.
Source: Forbes, June 2021. "Venture Funding For Health Startups Hits Record High As Anxiety, Depression Skyrocket."
Mental health startups funding reached a historic record of $852 million in the first quarter of 2021, nearly twice the amount raised during the same period in 2020, according to CB Insights.
Digital mental health is no longer solely restricted to talk therapy or medication management. A host of companies—both mental health startups and more established businesses—now offer psychedelic therapy, executive coaching, support for children and adolescents, and specific treatment for conditions like insomnia, anxiety, and ADHD.
Source: Inc., July 2021. "5 Startups That Are Changing the Mental Health Industry."
There are now seven mental health startups with valuations over $1 billion each in the U.S., up from two a year ago, buoyed by the flurry of digital health IPOs, SPAC deals, and M&A activity. In 2020, mental health startups funding was 5.5x the $275 million investors ponied up four years earlier, according to data from CB Insights. There were 124 deals last year (2020), compared to 69 deals in 2016.
VC Funding U.S.-Based Mental Health Startups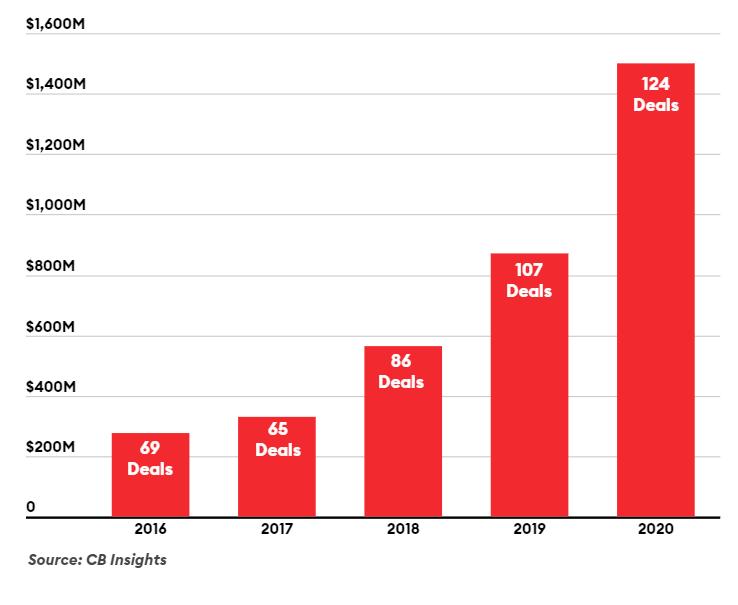 According to CB Insights, the highwater mark shown on the table was set pre-pandemic when the telepsychiatry and specialty pharmacy company Genoa Health sold to UnitedHealth Group for $2.5 billion in 2018. The next mental health startup to reach a billion-dollar valuation was Calm in 2019. Lyra hit a billion-dollar valuation in 2020 in a pandemic-fueled funding round, and Modern Health, BetterUp, and Ginger joined the club in 2021. In January of 2021, Talkspace announced plans to go public in a SPAC deal valuing the company at $1.4 billion; the deal is expected to close later this year.
Source: Forbes, June 2021. "Venture Funding For Health Startups Hits Record High As Anxiety, Depression Skyrocket."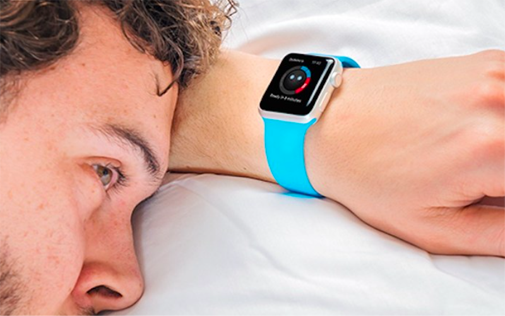 Apple is also joining the mental health space. As reported by The Wall Street Journal, the tech giant is working on a new iPhone feature that can help detect if a user is depressed or suffering from cognitive decline. The technology would use sensory data – including mobility, physical activity, sleep patterns, typing behavior, and more – to spot digital signals associated with various mental health or neurological issues.
Source: Dazed, September 2021. "Will your iPhone soon be able to detect depression?"
Considerations
Despite this growth, many thought leaders in the health and human service field are skeptical. So, what is the secret to their popularity – how are digital-first behavioral health companies attracting consumers, and what's unique about the care experience they are offering? Why are investors pouring money into these companies? Why are health plans contracting with them? And how are these companies attracting and retaining clinical professionals?
Source: Open Minds, July 2021. "Why are Digital First Mental Health Companies So Popular?"
Historically, mental health businesses haven't been profitable, which may partly contribute to the lack of growth in the industry until recently. Despite federal laws requiring mental health to be reimbursed at the same rates as physical illness, many people with insurance still face hurdles, from long wait times to denial of claims battles. Around one in four Americans don't have access to in-network therapists, according to the National Alliance on Mental Illness. Many mental health providers choose to operate out of insurance networks since the reimbursement rates are so low. Such issues create hurdles for mental health companies and may stunt growth and profitability in this industry.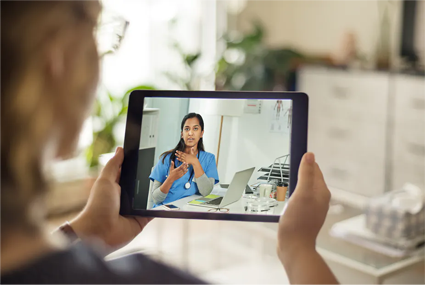 There's also the question of what might be lost if the majority of mental health visits shift online. Jessi Gold, a psychiatrist and assistant professor at Washington University in St. Louis, has been conducting virtual appointments but prefers to see patients in person. She says there's a misconception that just because mental health providers don't conduct physical exams that all they need is to see a patient's face on a screen to be effective. "There's a lot more to emotions and connecting with people, reading people and diagnosing people than just looking at their face," says Gold, who is also a Forbes contributor.
While there is widespread agreement that improving access to mental health services is sorely needed, the explosion of funding and sky-high valuations means consumers and clinicians are left to sort through hundreds of options without a good sense of which will work, and which are just hype. Many of these mental health startups partner with research institutions to publish studies, but no one has performed a head-to-head comparison of the market.
Low-income or rural communities without sufficient broadband access are still at a loss, and there will continue to be a nationwide shortage of providers and issues with reimbursement. "You can't just put a tool in an inequitable system and expect it to solve all of those inequities," says Nicole Martinez-Martin, an assistant professor at the Stanford Center for Biomedical Ethics who studies mental health apps.
Learn which institutional private equity and hedge funds on our platform are investing in healthcare.
For financial advisors only.