Published on September 7, 2023
Lionel Messi's Arrival to the MLS: A Game-Changer in
Sports Media and Entertainment
The Impact of Messi's Move on Sports
In an era where private investment firms are increasingly owning sports franchises, Lionel Messi's monumental move to Inter Miami in the Major League Soccer (MLS) has not only rocked the sports world but also significantly impacted the broader landscape of sports media and entertainment. This has created a ripple effect throughout the league, "the Messi effect", leading to heightened interest in MLS and offering golden monetization opportunities for media firms.
Imagine this: one of the greatest soccer players of all time, Lionel Messi, makes a surprising move from Paris St. Germain, a renowned French club participating in one of the top talent pools in the world, to join one of the newest teams in one of the lowest tiers of the sport, Inter Miami in the MLS. This move isn't just about Messi or Inter Miami. It is about the commercial value of the MLS as a whole, and its growing influence in the world of sports.
While the likes of Cristiano Ronaldo, Kareem Benzema, and newly signed Neymar Jr., have been drawn to the upstart Saudi league due to the vast sums of money thrown at them, Messi decided to turn down a massive 3-year $1.64 billion contract, ~$546 million annually, to pursue an alternative route.1
The details of Messi's contract in Miami show that he is set to earn an estimated $50-60 million base salary, in addition to a signing bonus and equity in the team. Beyond his base salary earnings are the media deals and partnerships drawn up to incentivize the move in lieu of joining the Saudi League. The two most notable, yet somewhat discrete partnership deals are with Apple and Adidas, where Messi is set to earn a percentage of new MLS season pass subscriptions and merchandise sold.2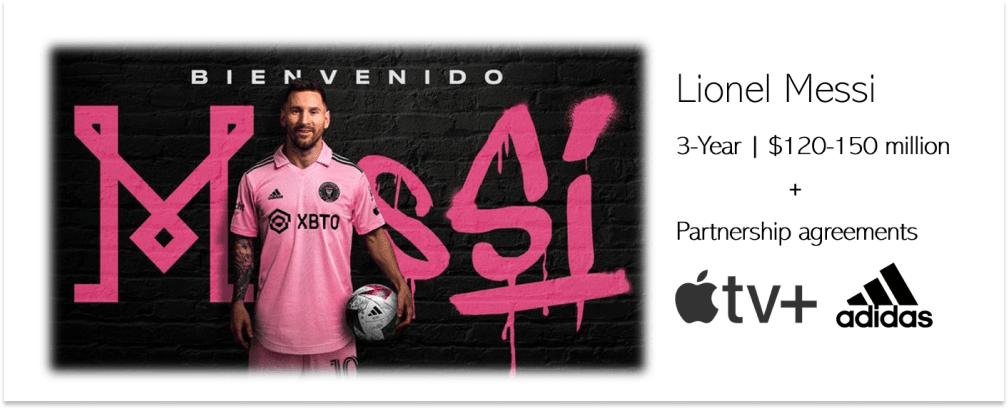 Source: Sportico (2023)
Media Partnerships: A New Dawn
In the wake of Messi's move, media partnerships have gained significant momentum. The MLS, once overshadowed by European leagues in global viewership, is now attracting media giants who want a piece of the action. In its previous broadcasting contract structure, the MLS made approximately $90 annually from incumbent partners, ESPN, Fox Sports and Univision.3 Messi's presence in the league is like a magnet, drawing in new sponsorship deals and partnerships, and not just for Inter Miami but for the entire MLS.
Source: Twitter - Joe Pompliano (2023)
In anticipation of Messi's move, technology behemoth Apple, announced it had secured a 10-year, $2.5 billion media rights deal with the MLS.4 Under this new deal, Apple will broadcast all MLS games through their Apple TV subscription, the MLS Season Pass, a lucrative deal for all parties involved. Prior to Messi's arrival, the MLS season pass had approximately 700,000 active users.5 Only a month into Messi's arrival, Google searches have exploded and Inter Mami's owner, Jorge Mas, says MLS Season Pass subscribers on Apple TV have more than doubled.6
Partnerships like this help to proliferate the league's visibility through widespread coverage, thus attracting a broader, international fan base. Not only does this increase viewership and fan engagement, but it also opens new avenues for increased advertising and sponsorship opportunities. As of August 15th, Inter Miami Instagram page gained approximately 12.7 million new followers since Messi's arrival. According to Luxonomy, it is estimated that Messi could increase Inter Miami's sponsorship revenue alone by 50% due to the increased exposure.7 Furthermore, Jorge Mas expects the club's annual revenues to double in one year alone, up from $56 million in 2022, to a projected $110 million in 2023, and believes the club's valuation could increase to $1.5 billion in 2023, up from $600 million in 2022.8
As a result of heightened exposure, media firms are more likely to invest in a league that is growing in popularity and houses world-class talent like Messi. These partnerships, therefore, are a vital cog in the MLS's business model, serving as a significant source of revenue and a catalyst for the league's growth. In short, Messi's move to the MLS underscores the immense value of sports media partnerships in promoting the league, expanding its global footprint, and ensuring its sustained growth and profitability.
Boosting Sports Betting Industry
The sports betting landscape has also been altered by Messi's arrival. With Messi on the field, bettors are more interested in MLS games, leading to increased activity in sports betting. Bookmakers are seizing the opportunity to create new betting markets centered around Messi and the league, driving further engagement and revenue. In fact, in Messi's debut game against Cruz Azul, 99% of wagers placed on the game were for the messiah to score a goal at any time throughout the match. And for those that ventured into this bet, it paid off marvelously with the seven-time Ballon d'Or winner scoring a 90th-minute free kick in epic fashion.9
While the exact betting figures surrounding Messi are yet to be disclosed, it's clear that Messi's arrival in the MLS has given a significant boost to the sports betting industry. The excitement and intrigue surrounding Messi's performances have led to a surge in wagers placed on MLS games, and industry insiders report a notable uptick in betting activity since his move.10 The influx of new bettors attracted by Messi's presence has opened new revenue streams for betting companies, contributing to the overall growth of the sports betting industry.
Private Fund Interest in the Sports Media and Entertainment World
While Messi's move to the MLS has surely created a ton of buzz with sports equity interest in the MLS, notably, Ares Management injecting another $75 million into Inter Miami just this month11, private equity interest in the sports media and entertainment segment of the MLS should see healthy participation on the back of increased viewership and participation.
The concept of sports media and entertainment has blossomed with the proliferation of technology, and to a certain degree, is in its infancy relative to the history of sports. However, this segment alone lures many private funds to invest in these services as a source of alternative investments. Private funds have increasingly sought diversification through these parts of the sporting economy, including betting, streaming rights, and companies that supply technology and services to teams and their organizations. It was estimated that in 2022, the global value of sports media rights totaled upwards of $55.1 billion, with anticipated growth into 2024 of $4.9 billion on the back of new media rights deals.12
Another example of private equity participation in this growing segment can be seen in the NFL and RedBird Capital Partners, EverPass media, a newly formed media venture that secured a multi-year distribution agreement of the NFL Sunday ticket exclusively in the US to commercial establishments like restaurants, bars, and hotels. These rights contributed by the NFL are valued at over $200 million.13
Conclusion
The addition of Lionel Messi to the MLS has been a major game-changer in the sports media and entertainment landscape. With strategic partnerships, increased viewership, and monetization opportunities for media firms, this move has truly revolutionized the league. As we continue to follow Messi's journey with Inter Miami, it will be fascinating to see how this move will continue to redefine the sports industry. One thing is for certain; with Messi on board, the MLS is truly changing the game.
Sources:
Learn about the private funds investing across the sports media/entertainment ecosystem.
For registered investment advisors only.