Published on January 27, 2022
Private Capital Piles into Supply Chain Tech Opportunities
The recent COVID-19 Pandemic highlighted the importance of the supply chain for retailers and how everyday practices can be disrupted. Despite the world being shut down or partially shut down in the last couple of years, consumer spending has reportedly remained constant and even grew in some areas. This persistent consumer demand has helped contribute to the supply chain issues that we see today. Our latest insight piece will touch upon the current supply chain issues, recent trends in the space, and private investment activity.
The "New Normal"
The pandemic upended our lives and spurred the term: "new normal". Experts believe the supply chain disruption is likely to continue while we emerge from the pandemic and hopefully get back to our "old normal".
Under the pandemic, we've seen unprecedented amounts of government stimulus across the world, which helped bolster savings. Additionally, consumers were encouraged to stay at home, further padding their savings account for expenses that would generally go to travel and leisure. With these extra savings, we saw consumer spending continuing to grow during the pandemic.
While retailers should rejoice at this growing consumer demand, many were left scrambling, as the lockdowns prevented many manufacturing plants from opening, thereby lowering the supply of goods available and shifting consumers to online stores, upending many retailers' supply chain models.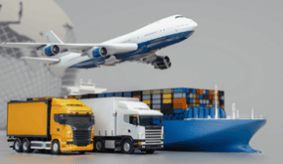 Supply Chain Shortages
The White House reports inventories reached a high at the onset of the pandemic, as many businesses were stuck with unsold goods. However, those high inventory levels are now at their lowest levels while businesses struggle to build inventories back up to pre-pandemic levels as the economy recovers. The graph below shows how inventories remain at some of the lowest levels since 1992 for both businesses and retailers.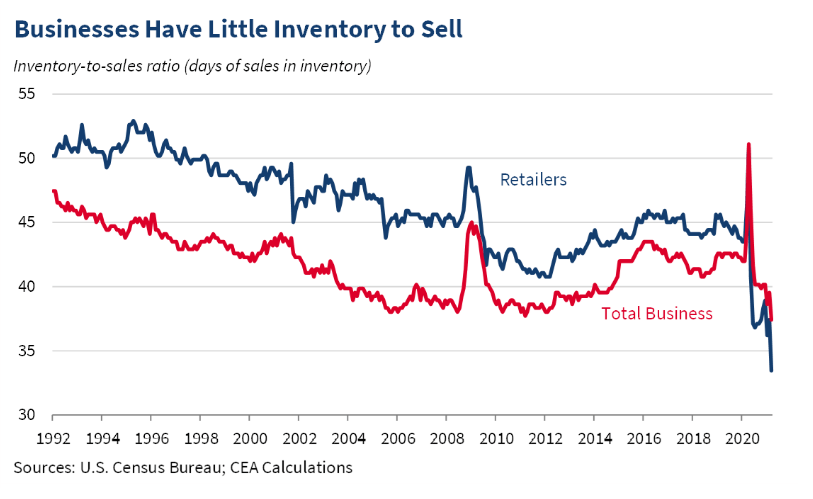 Source: The White House, June 2021, Why the Pandemic Has Disrupted Supply Chains
Low inventories have triggered a chain reaction in industrial supply chains. Detailed in the graph below, roughly 36 percent of small firms reported delays with domestic suppliers according to the U.S. Census Small Business Pulse survey, conducted from May 31 to June 6. These delays were concentrated in the manufacturing, construction, and trade sectors.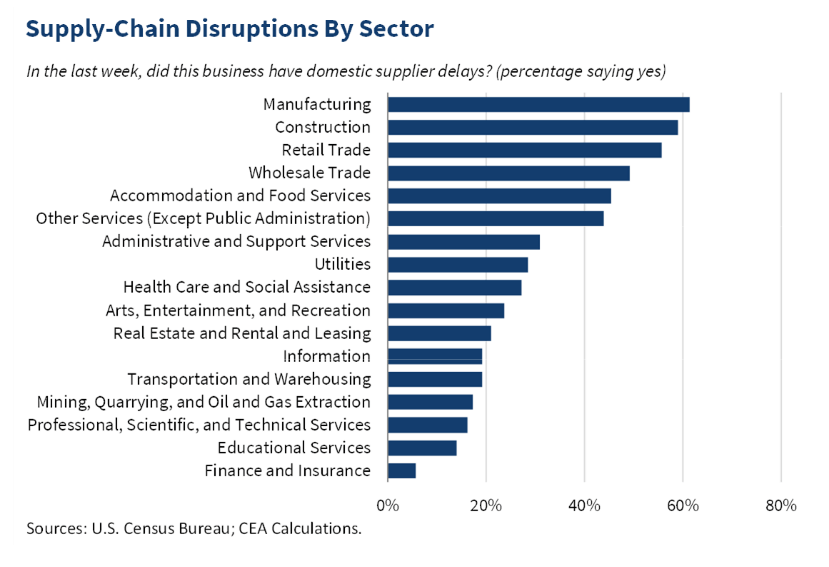 Source: The White House, June 2021, Why the Pandemic Has Disrupted Supply Chains
These supply chain delays have resulted in higher prices to the consumer, prompting fears of inflation, and missed revenue for businesses unable to produce their goods. According to economists surveyed by The Wall Street Journal, the US economy will likely continue to experience this high inflation far into 2022, as constricted supply chains exert upward pressure on prices and curb output. About a third of respondents predict the supply chain disruption will ease by Q2-2022, but some respondents, roughly 15%, cite easing to occur by 2023 or later.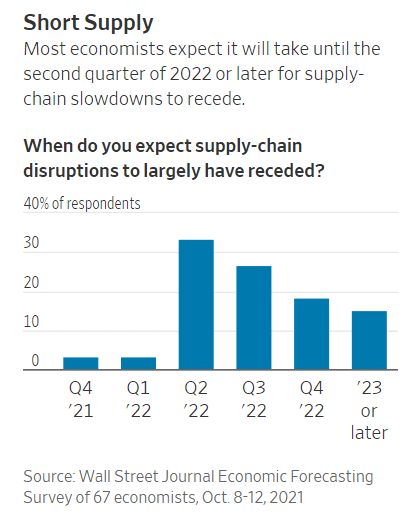 Source: WSJ, October 2021, Supply-Chain Bottlenecks, Elevated Inflation to Last Well Into Next Year, Survey Finds
As we wait to emerge from the pandemic and resume our pre-pandemic lives, Covid might still remain as a focal point in our economic growth for the foreseeable future. Leo Feler, a senior economist at UCLA Anderson Forecast, states, "fundamentally, it's Covid and people's reaction to it that's leading to labor shortages and supply-chain bottlenecks, which in turn is feeding into higher inflation."
Source: WSJ, October 2021, Supply-Chain Bottlenecks, Elevated Inflation to Last Well Into Next Year, Survey Finds
Technology's Impact on Supply Chains
Experts in the supply chain industry emphasize the importance of technology to improve the current issues by improving visibility and transparency in the shipping process. They warn that organizations that do not invest in supply chain technology risk jeopardizing their future. "The current state of the supply chain is the new normal," says John Fay, CEO of True Commerce, a supply chain network solutions software provider. Fay reports that True Commerce witnessed a 90% increase in drop-ship orders in 2020, with manufacturers side-stepping physical stores and warehouses and delivering products directly to consumers. This trend highlights changes in how products were distributed as a result of supply chain issues, retail closures, and other pandemic-related constraints.
Companies that were at the forefront of investing in technology designed for supply chain optimization were able to better capture the increased consumer demand that corresponded with the pandemic.
According to Cindy Elliott, head of business sector strategy at GIS (Geographic Information Systems) data, mapping, and technology company Esri, the current supply chain issues are partially to blame for the supply chain network being slower in digitizing and adopting technology. The companies that were successful during 2020, such as Lowes, Walmart, Target, and Amazon, had all invested in technology and other solutions to provide better visibility and transparency in their supply chain. She states, "These companies were able to be more responsive immediately to a ripple happening somewhere else and make adjustments faster."
According to experts, transparency — the ability to know where products are in the supply chain in real-time — is a key advantage that some companies have over others, as evidenced by Amazon's real-time delivery tracking. However, other players are looking to follow suit. In April 2021, Japanese firm Panasonic paid $7.1 billion for supply chain AI software company Blue Yonder, with the goal of creating "autonomous augmentation of the entire supply chain."
Source: Information Week, November 2021, Data Analytics Can Fix the Supply Chain. Eventually
Future Trends for Supply Chain Technology
Part of 2021's top tech trends for the supply chain network includes:
Digitizing Design
Robotics and Automation
Data Analytics
Transportation
Digitizing Design
Companies are looking at collecting more data from their production and using it to improve their manufacturing. After collecting the information, the companies leverage 3D printing and digitize the design to create a customized product for clients.
One executive, Bert Stephens, from Builders FirstSource, a national building product supplier, discusses his uses of 3D printing and data collection to optimize the design process for the company.
Stephens recounts, "what we have done is connect 3D design and Building Information Modeling ("BIM") together. We are looking at digesting the plans from our customers into our systems. And, actually, we want to be able to design for manufacturing to pull out exactly what is in the design. Ultimately, it will make a plan more useful, we will be able to share it with other parts of the business, and go back and forth with the customer instead of redrawing a plan several times and spending a lot of time and resources."
In 2021, Builders FirstSource worked to enhance their pre-cut framing system, READY-FRAME, with 3D printing. Through 3D printing, the company was able to digitize their designs and make their pre-cutting process faster by 30% compared to traditional processes. In doing so, the company reduced their waste material, streamlined the number of cuts, and built framers faster.
Source: Forbes, December 2021, 2021's Top Tech Trends In Building Supply Chain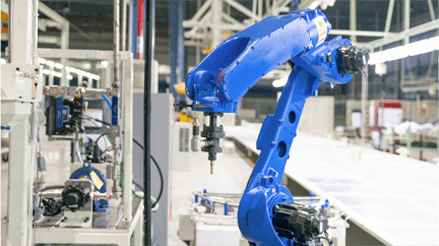 Robotics And Automation
Companies are looking at adding more robotics and automation to their manufacturing process in an effort to improve production efficiency and reduce bodily risks from physically straining jobs.
CEO Robyn Polina of a distribution company Palmer-Donavin, implemented more machinery to the production process to improve efficiency and safety. With the use of new technology, the company was able to reduce the unloading of a cabinet shipment from a three-person, eight-hour job to two hours.
Palmer-Donavin replaced manual-operated machinery with autonomous machinery, which allowed the company to increase precision and repeatability, as well as save training time. This switch removed three potentially dangerous handling steps, which had previously opened the job to product damage, sprains, strains, and other injuries.
Source: Forbes, December 2021, 2021's Top Tech Trends In Building Supply Chain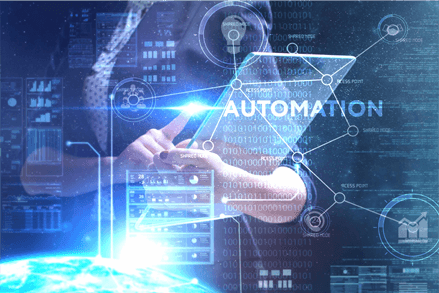 Data Analytics
Companies are investing more in data analytics to help them make better decisions based on information already provided by their customers.
Executive Director of Information Technology, Ben Beachy, at Keim, an Ohio-based lumber and building materials dealer describes the phenomenon as, "I see two broadly extreme approaches to data in the industry. One is to ignore it as confusing, over-hyped, and irrelevant—instead, just trust the gut sense that's brought us this far. The other is to trust reports, algorithms, and analysis too much—to blindly follow whatever data we have wherever it seems to lead. I want to strike a middle path, combining the wisdom of industry veterans and decades of experience with the data we collect in our systems. Testing one against the other to refine them together. We may be measuring the wrong things. We may be trusting wisdom that's out of date. But we won't know either until we critically evaluate both."
Data analytics may provide companies with a competitive edge by helping better understand their customers through information collected from their database and picking up on industry trends.
Source: Forbes, December 2021, 2021's Top Tech Trends In Building Supply Chain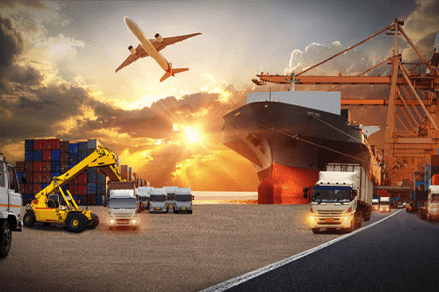 Transportation
Transportation has come into the headlines with the recent logjams at the Californian ports and sharp increases in shipping costs from consumer demand for goods. However, transportation faces more challenges when implementing automation due to the various products and delivery locations. Industry experts foresee transportation to likely be a hybrid with human and automation involvement. One example is to have semi-autonomous trucking, which means that rather than having drivers in the truck, humans can control the truck remotely. Others envision autonomous supply chain vehicles, which can unload their contents inside the warehouse.
Sources:
WSJ, October 2021, L.A. Port to Operate Around the Clock to Ease Cargo Logjams
Forbes, December 2021, 2021's Top Tech Trends In Building Supply Chain
Private Investing in Supply Chain Technology
As it relates to private investments in this space in 2021, supply chain tech startups are reportedly up 124% from the start of the year to Q3, totaling $7.8B VC investment. VC investors have been allocating the bulk of their investment into freight and delivery technology, specifically in downstream logistic companies.
2021 saw early- and late-stage supply chain startups valuations increase. According to Pitchbook, on average, angel and seed supply chain tech companies saw their valuation increase by 6.7% from 2020 to 2021, reaching $7.5M. For early-stage supply chain tech startups, their valuations increased by 19.5% YoY, to $35M. Within late-stage supply chain tech companies, valuations grew by 42.1% from 2020 to 2021 to $120M. The winners in late-stage supply chain tech were downstream logistics and delivery services, which comprised a large portion of the increase in late-stage valuations. These areas saw increases from the rise in consumer demand for e-commerce and delivery services, prompting more venture capital investment to more tech-enabled solutions.
Sources:
Pitchbook, December 2021, Q3 2021 Emerging Tech Research: Supply Chain Tech
TechCrunch, October 2021, Gorillas gabs 'close to' $1BN, Series C values on-demand grocery delivery biz at $2.1BN
GlobeNewswire, December 2021, Interos Announces Investors in Funding Round that Vaulted Company to Unicorn Status
TechCrunch, September 2021, Logistics startup Stord raises $90M in Kleiner Perkins-led round, becomes a unicorn and acquires a company
TechCrunch, August 2021, Autonomous cargo drone startup Elroy Air lands $40M Series A
Conclusion
The silver lining with the supply chain issues is that it highlights the need for more investment in the sector. Private capital has been stepping in to fill this void and spur innovation. This added investment is already permeating through the supply chain sector via digitalization, automation, and data analytics. Hopefully, the influx of private investment today will create a better future for supply chains and mitigate the risk of disruptions.
Learn which institutional private equity and hedge funds on our platform are seeking investment opportunities in supply chain tech and how your clients can participate.
For financial advisors only.