Published on July 6, 2023
The Changing Environment for Private Investment Firms to Own Sports Franchises
Sports are involved in our lives and affect them daily. The deep, fascinating, and rich history has had an incredibly substantial effect throughout our life stages. Sports have transformed in conjunction with the removal of technological barriers globally, and have presented a vast landscape of opportunity for all individuals. The sporting industry, evolving from its historical roots, will remain front of mind for most, regardless of the surrounding macro situation. And to that avail, sports franchises throughout choppy market cycles have been the beneficiary of a monumental amount of money due to their physical attachment to their loyal customer base. This loyalty is passed down from generation to generation and is capable of reaching millions of loyalists, supporters, consumers, and investors alike.
Throughout history, we've experienced tremendous mindshare in the sporting industry, with highly touted concepts developed abroad evolving and gaining tremendous traction here in the United States, such as football (soccer), and more recently, Formula 1. In addition, ownership of these sports franchises is also undergoing a paradigm shift; from single individual/family ownership structures to a large percentage of ownership held by private funds, which in turn can be accessed by an even larger pool of high net worth limited partners. For example, in 2020, the NBA made history by becoming the first major sports league to authorize private equity investment. This permits funds to buy up to 20% of a single team and has authorized franchises to have up to 30% of a company's equity owned by funds.1 Alternative investment firms, acting as a conduit to deep operational and financial support have bolstered revenue, returns, and popularity for sports teams to, in turn, create tremendous value for the participating shareholders. This recent increase in popularity has benefited most sports leagues, and private funds continue to acknowledge the substantial opportunity set presented in sports as an alternative investment.
Sports Equity as an Alternative Investment?
Sports Franchises
Sports franchises have multiple different types of investors, most of which are individuals and/or families. However, there is a growing portion of the investor makeup which are private funds that either participate in a franchise's public stock or privately held equity. While the world of sports ownership has been tucked behind closed doors for eons, times are changing. Individuals and families seeing private funds licking their chops to participate, have structured ways to provide access, either in the form of minority ownership for those looking to have a passive share, or majority ownership to those looking to reshape a respective franchise. According to Jim Miller, partner, and co-head of US direct lending and sports, media, and entertainment at Ares, "this industry had been family-owned businesses for many years — now they are major organizations and have to be run professionally,"2 It's an evolution that we gradually began to see over the past decade and the growing magnitude of sports, and the surrounding sector investment case has made it incredibly attractive for fund managers looking to improve the space further. Beyond the allure of owning a professional sports club, these private funds hope to underwrite a tangible future return with sports teams.
Sports franchise investments come in all shapes and sizes, and when looking at it from the lens of the technology sector, there are investments made in companies in different stages of their life cycle, geography, and risk profile; from startup companies to mature companies. Sports investing is similar with respect to this. There are emerging franchises, there are high growth franchises, established franchises, distressed franchises, and more. European football (soccer) leagues are a great case study to view private fund involvement in the sports world. While many examples exist, most notably, in 2021, RedBird Capital Partners pumped a reported US$750 million into Fenway Sports Group (FSG), owner of Liverpool FC. Today, investment firms own 17% of clubs in Europe's most significant domestic leagues.2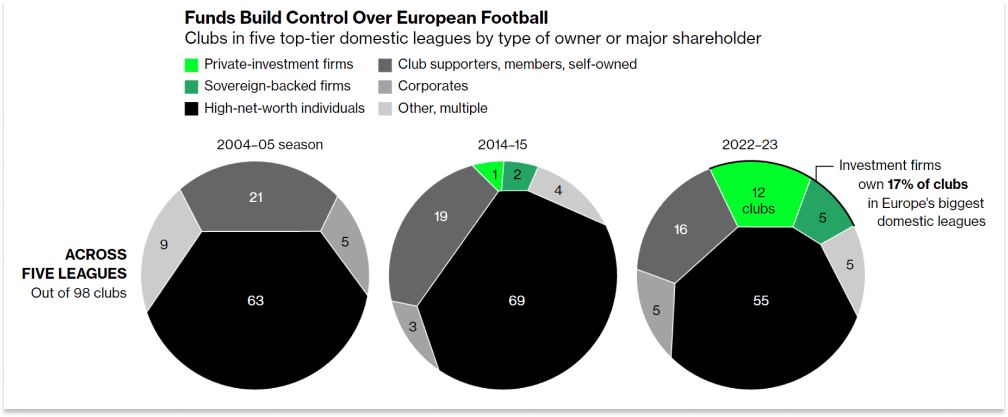 Image Source: Bloomberg
How do sports franchises make money?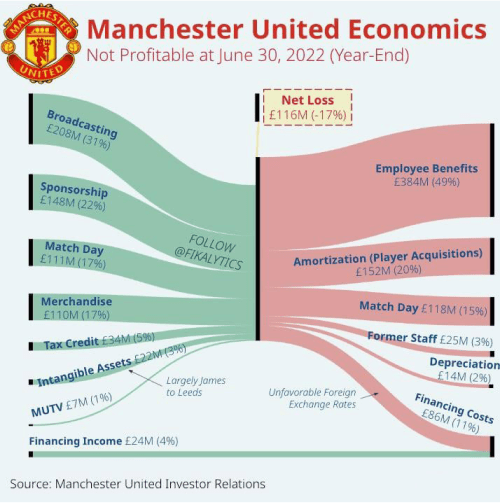 Image Source: Twitter
While the composition of sport franchise revenues may differ for clubs of varying sizes and fame, the drivers remain quite similar across the board. Large sports franchises produce most of their income through 3 main channels, commercial revenues, broadcasting revenues, and matchday revenues. In the commercial channel, the brand is the driver of money, and revenue is earned through advertising and partnerships. Falling in this bucket also includes retail, merchandising, apparel, & product licensing revenues earned. Next, broadcasting revenues for big clubs are a serious driver as the club benefits from the distribution of live football matches. For football clubs, an example of this distribution could be derived from global television rights of things like the Premier League, or UEFA club champions. Lastly, matchday revenues, or gameday revenues here in America. These are revenues earned through ticket sales, and broader concession sales in the stadium. For a club like Manchester United, housed by the famed Old Trafford Stadium, which is the largest football stadium in the UK, Matchday Revenue is a significant contributor to the top line.3
See funds listed on our platform that are participating in the sports ecosystem.
For registered investment advisors only.
Performance of Select Sports Franchises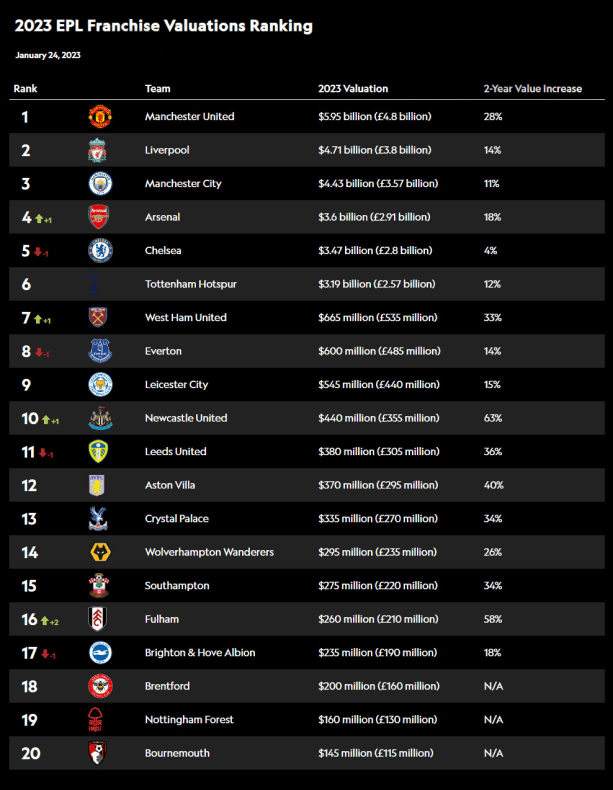 Image Source: Sportico
Sports investments have the potential to be valuable when implemented properly. English Premier League team Newcastle is a prime example of how private fund ownership in a franchise can yield materially. The club had a valuation increase of 63%4 over the last two years due to a substantial investment from the Saudi Public Investment Fund, which supplied hundreds of millions of dollars to the club. From investing in stadium improvements to management and key players, the club has attracted more support, and game attendance. Ultimately, the turn around can be expressed by the club moving up the ranks from 11th place in the 2022 English premier league table, to 4th in the 2023 season. Another interesting case study would be Austin FC, an expansion franchise in the MLS, added the league's 27th team. In 2019, Two Oak Ventures invested over $277 million into Austin FC to develop a premier stadium, bring in talent, and develop a soccer foothold right outside the great city of Austin, Texas. Through the 2022 season, the club has amassed a valuation of $680 million, making it a top 50 valued soccer club franchise across the globe.5 Additionally, it was reported that the average NBA franchise experienced valuation increases of 16% in 2022, whereas the S&P experienced a decline of 16% over the same period.1
What are the risk factors involved?
Like all investments, investing in this sector does come with its own unique set of risks. Some key risks as it relates to sports franchises include economic shocks that could impact the franchise negatively. The demand for sports events is also elastic; if individuals during a financial crisis do not have enough money to go and watch these sporting events or an increase in ticket prices may hurt stadium and concession revenues. Also, public scandals within the sports teams often have a significantly negative impact on the reputation and reliability of the franchise. As it relates to sports media/entertainment, there are IP risks and risks of content monetization. These risks could indeed hamper the overall return of the investment and should be monitored extremely carefully when conducting due diligence.
Conclusion
Sports play a significant role in our daily lives and have a fascinating and rich history. They have overcome technological barriers and provide a vast array of opportunities for individuals. The sports industry has evolved through time, being a direct beneficiary of enhancements made in technology. Investments in sports franchises, sports media, and sports entertainment is something close to home for many, and fortunately can help diversify your portfolio and give it a sense of personality and interest.
Sources:
See funds listed on our platform that are participating in the sports ecosystem.
For registered investment advisors only.